WUFT News Report for America Journalist Katie Hyson's News Story Cited in Law Review Journal
A news report by Katie Hyson, University of Florida College of Journalism and Communications WUFT News Report for America journalist, has been cited in "Debt Governance, Wealth Management, and the Uneven Burdens of Child Support" published in the Northwestern University Law Review, Volume 117, No. 1.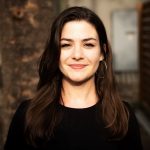 Hyson's story, "The Silent Return of Debtors' Prison: Poor Parents Face Jail Time for Failing to Pay Back the State for Child Support," focused on how Florida child support enforcement creates a "perfect storm of debt for disadvantaged parents and offered nine changes that could them weather it."
The law review article included this quote from Hyson's story: "Jailed child-support debtors are more likely to be poor, unemployed and African American or Hispanic, in what one researcher called a 'silent return of debtor's prison.' One study found that 5% of all fathers and 15% of all African American fathers had been jailed for child support."
As a Report for America Journalist, Hyson shares stories of racial and rural inequities with a focus on East Gainesville.
Posted: September 2, 2022
Category: Alumni News, College News
Tagged as: Katie Hyson, Report for America