How CJC Transfer Student Found His Groove in the Newsroom
By Lila Greenberg, B.S. Telecommunication 2022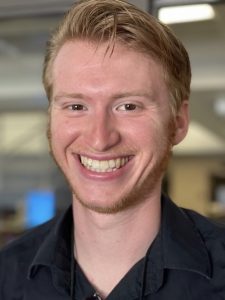 Elliot Tritto, B.S. Journalism 2023, would have never expected to attend the University of Florida, let alone be a journalist.
At a young age, Elliot was diagnosed with a language processing disorder (LPD), a disability that makes it difficult for him to understand new information and express his thoughts clearly.
"My brain functions like Windows 95," Tritto said. "It runs well, but sometimes it takes a while to process information."
Growing up, Tritto recalls spending much of his time completing homework and reading stories, two tasks his disability made especially difficult. He garnered support from those closest to him: his parents. His father, a band director, taught him how to communicate through the language of music; his mother, a former librarian, retired to dedicate her time to help her son overcome his disability.
"It was a long road," Tritto said. "Comprehension was something I really struggled with." His increased efforts as a child to learn how to communicate showed him the importance of journalism, and journalism has helped him become a better writer and communicator.
Before attending UF, Tritto attended Broward College in South Florida, where he wrote for the school's newspaper, The Observer. Writing stories for The Observer taught him the skills necessary to become a journalist and gain exposure within the community.
Though he focused primarily on writing at The Observer, Tritto discovered the art of podcasting on his daily commute, enjoying it so much that he started two podcasts, Basic Nerd Experience and The AEA Talk Show. His time at Broward College was vital in his development, laying the groundwork for a more challenging environment.
As he began his transfer process to UF, Tritto was selected to be part of the pilot cohort of the CJC PATHS program, which recruits transfer students from various backgrounds and provides them with a toolbox of resources to ensure a fluid transition to campus.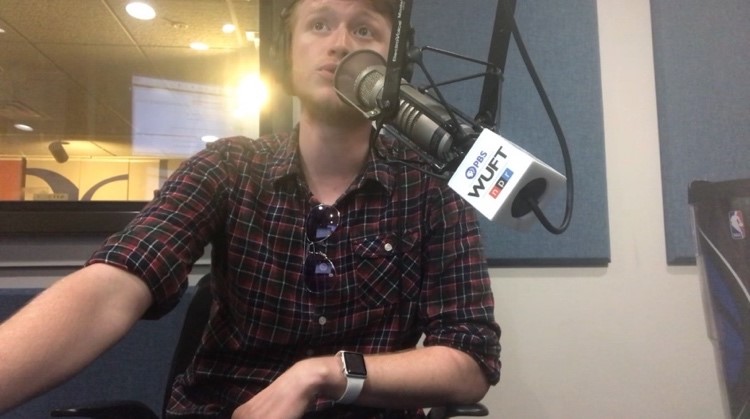 The Coronavirus pandemic stood in Tritto's way of attending class in person but did not diminish his urge to develop as a professional. He learned to brand himself as a journalist, starting his blog, The Ginger Tribune, to share stories with his community. He transferred to campus in fall 2021.
In one year, Tritto has fully immersed himself in the Innovation News Center (INC), the College's news and sports operations. In the INC, he reports for WUFT, the NPR affiliate for North Central Florida. He produces episodes for in-house curated The Point Podcast and hosts on-air segments during NPR's All Things Considered program.
Tritto has gotten involved in sports broadcasting and has had the opportunity to work with GatorVision, the University Athletic Association's multimedia operation, and producing for WRUF radio, the local ESPN affiliate. He has also had a few stories published in the student-run newspaper, The Independent Florida Alligator, and hosted its podcast in fall 2021.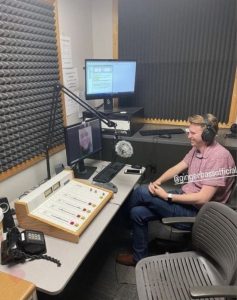 Tritto enjoys talking to people and hearing captivating stories.
"I like localizing stories," Tritto says. He is determined to share good stories and communicate valuable information to those in his community. He seeks to uncover and liberate the truth in each story he writes.
He considers audio storytelling his forte and his preferred medium as a journalist. The essence of podcasting lends itself well to telling people's stories intimately, allowing the energy and emotion of the subject to shine.
Journalism isn't the only talent Tritto possesses; he is a gifted musician. Music has helped him develop his communication skills. He joined the band program at UF to continue playing music while studying journalism. For Tritto, music and journalism go hand-in-hand — both are inspirations for the other. His artistry as a multi-instrumentalist has influenced his passion as a journalist.
Even after a lifetime of continued improvement, Tritto is still affected by the processing disorder. He admits he still struggles with understanding some topics, such as grammar, but strives to improve, not letting his disability get in the way.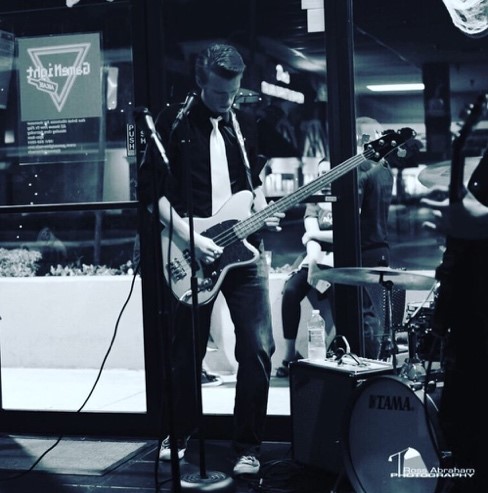 "I think adversity is a good thing," he said. His disability inspired him to work hard to achieve his goals and overcome adversity.
"I have learned that sometimes when you have a disability, it's a part of who you are, and it's okay to have that [disability]," Tritto said. "How you cope with it is a big thing."
For a child who struggled to communicate, Tritto proves that no matter the deterrence, hard work and determination can lead to success. With help from CJC, Tritto has become a multifaceted student journalist, learning the skills necessary to one day be an accomplished professional. He dreams of working for NPR post-graduation. Luckily for him, his dream is just beginning.
Posted: August 19, 2022
Category: College News, Profiles, Student News, Uncategorized
Tagged as: Elliot Tritto, Language Processing Disorder