CJC Telecom Grad Shared the Immigrant Experience in HBO Max Series "Gordita Chronicles"
By Lenore Devore, B.S., Journalism, 1984
Moving from Puerto Rico to Miami when Claudia Forestieri's father was promoted at Eastern Airlines was a traumatizing event for the 7-year-old. But it shaped her life and now inspires her writing for HBO Max's "Gordita Chronicles," a comedy about the immigrant experience of the main character, Cucu.
Forestieri, B.S. Telecommunication/Broadcast News 1996, was born in Puerto Rico to a Dominican mother and Dominican/Italian father. The family, including a sister, moved to the U.S. in 1981.
"All of a sudden I was somewhere with no friends and family," she said. "I didn't speak the language. It was a new school, a public school; I was used to Catholic school and being an honor student. The teacher was mad at me because I was speaking Spanish. But the benefit of being young is you adjust quickly."
Forestieri learned a lot about Cuban culture in Miami, and her parents wanted her to maintain her Spanish language – something that would help her in her career. "There is great power in community and having people around you who are going through the same challenges. I learned we can lean not only on family but other members of the community."
Now 48 and living with her husband in Los Angeles, she knew she wanted to be a writer ever since she wrote an essay on the prompt "I wish" in fourth grade. "I wrote: I wish I was skinny. It was the best essay and was read over the PA. I wanted to die."
In the essay, she shared how she was being bullied and how she was told that she was too heavy to be a ballerina. "The effect it had – everyone was nicer to me. I loved having my story read out loud. I loved TV and I loved writing. That's why I wanted to go to UF. I looked up to Oprah Winfrey, a woman of color, a little heavy set, and she was in movies, TV and had her own TV show."
Despite her parents' wishes that she stay close to home – her mother told her Dominican girls don't leave home until they are married – Forestieri knew she wanted to go away to college, specifically to the University of Florida.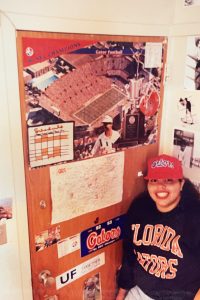 She wanted to be a Gator so badly that she applied for financial aid when her parents said she could go but they wouldn't help her. When she went home for the summer and her mother saw her doing her own laundry, helping around the house, she realized her daughter had matured. Her parents came around, and her sister followed in her footsteps.
She started in pre-law but quickly realized it wasn't for her. The summer after her sophomore year she interned at "The Christina Show."
"She's like a Latina Oprah. That's how Oprah started, so news was a wonderful place for me to begin."
She fell in love with the news industry and, while at UF, worked at WUFT-TV, WRUF 850 AM,  and the local ABC affiliate, where she tackled a lot of hands-on assignments, she said. "When I graduated, it took me a year to get a job in TV reporting. But I hit the ground running because of the education I received. When you worked at the TV station, you had to take turns being the camera person and reporter. I knew how to do both."
UFCJC Associate Professor Michael Leslie, who taught ethics, was a major influence in her time at the College. "He was probably the only professor of color I had. He taught journalism ethics, which is extremely important. I learned all about scandals, important questions you deal with, fact checking."
Former Journalism Professor Laurence Alexander, whom she worked for in the associate dean's office, also encouraged her. "Being Latina, it was difficult because I grew up among other Latinos. At UF, it was the first time I felt like a minority."
Not all of her experiences were positive. "One professor told me I might not be able to get a job as a reporter because I had an accent. I went after it anyway. It was a lesson: If you really want something, find some way to do it."
In the end, that accent helped her. She broke in as a reporter at a Telemundo Spanish-language news station. "When I was looking for a job, I had a resume tape in English and Spanish. The one in Spanish got me my first job. If I hadn't gotten that criticism, which came from a good place, I may have never done two tapes or become a reporter, and I might never have known why. Not only did I get a job, I got a whole career."
While at UF, Forestieri was also determined to create a space for women of all backgrounds to come together. As a result, she became the founding mother of Gamma Eta Sorority at UF, whose mission was to promote sisterhood, scholarship, strength, unity, leadership, service, and diversity.
She graduated in December 1996, and a couple weeks later her beloved Florida football team won their first football national championship. She pays tribute to them in a couple not-so-subtle ways in episode six of the "Gordita Chronicles," where two men walk into the boardroom with Gator mugs, then do the Gator chomp.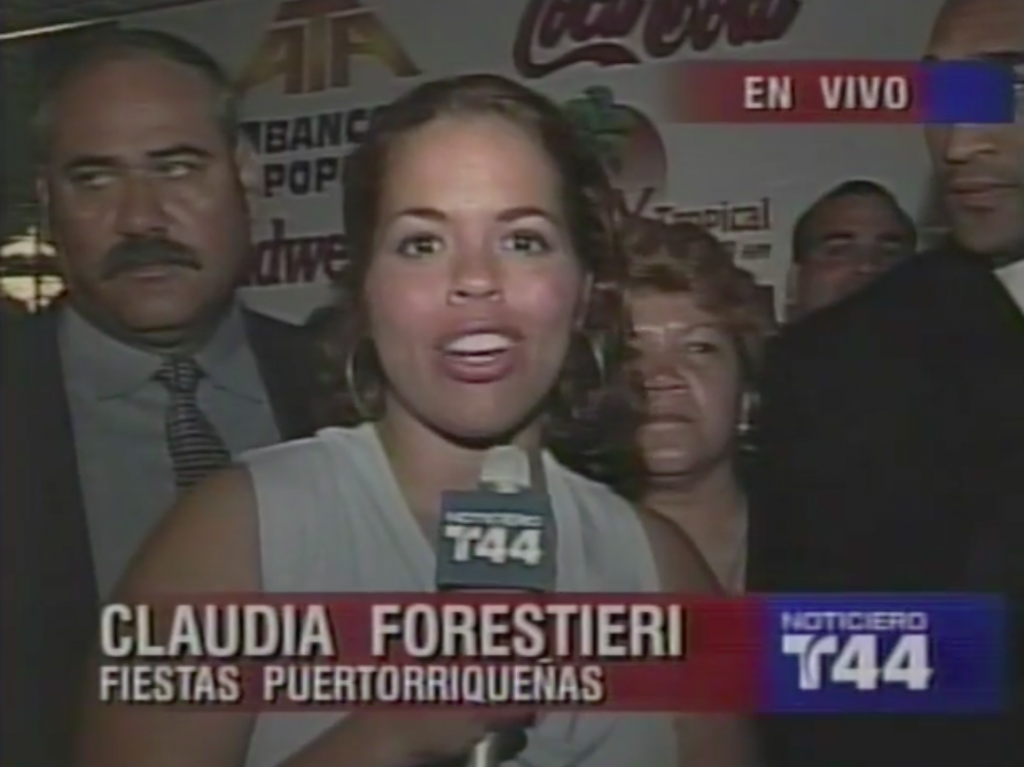 After college, she worked for Telemundo Noticiero 48 behind the scenes in Miami, in front of the camera in the San Francisco Bay area, and as a reporter in Chicago before moving to Los Angeles to try to break into TV writing in 2009. Knowing it would take time, she returned to Telemundo as a producer. While there, she earned five local Emmy awards and a GLAAD Media award for her work covering the Latino community.
Forestieri decided to pursue TV writing because she wanted to control the entire narrative. "When you're covering a news event, you have no idea if you're covering the end or the middle or simply the beginning of the story because you're just seeing this one part," she said. "I wanted to tell complete stories that people could learn from and be inspired by."
Other aspiring writers told her about NBC's Writers on the Verge diversity writing program. She applied several times before she was accepted in 2013. "It was the first time I felt like I could make it as a TV writer. I started learning more about what it's like to be in the writers' room," a place where writers meet for nine hours a day to discuss stories and scripts. It provided her with a new perspective, rules of etiquette, how much you should participate and more, she said.
In 2017, she joined what was then called the HBO Access Writing Fellowship, where she developed "Unimundo 45." A year later, she became part of the Disney ABC writing program, where she wrote for the series "Good Trouble," which is now in its fourth season. She then became executive story editor and co-producer of Netflix International's "Selena: the Series."
After years of writing scripts that were rejected, she got her big break, following two pieces of advice she heard from an industry veteran:
"Write a script that only you can write. Write about your own life."
"Divide your life into five-year increments. In each of those increments, something always stands out. You see your life in a different way." She did, leading to an OMG moment – she realized her life turned upside down when she moved to America.
Because 7-year-olds aren't that interesting, she started Cucu's life in the "Gordita Chronicles" at age 12. "It's a little higher stakes, a more interesting age, becoming a teen and making bigger decisions."
About half of the "Gordita Chronicles" is based on something that happened in her life. "Cucu is like my alter ego. There were a lot of situations in that first season that didn't happen to me. I didn't pretend I was Gloria Estefan's niece, but only because I didn't think of it. I was defiant; Cucu is more confident than I was."
Other storylines come from other writers, 80% of whom are immigrants or children of immigrants.
She hopes the series will "give people a different perspective on immigration. I had a very positive immigration experience. There were so many fun moments. Immigrants are very hard working, they love the U.S. I would love people to know that immigrants are the newest members of the USA club and start acknowledging the contributions immigrants make. We bring the best of ourselves and our nation."
Forestieri recently signed a deal with Sony Pictures Television to develop scripted series across cable and streaming in both comedy and drama under her newly launched production house Mamalu Productions.
Forestieri has this advice for minority graduates of UF who are getting ready to enter the workforce: "Don't take no for an answer. Whatever your dream job is, go for it, no matter what people around you might say." Some minorities will be the first in their job and don't have role models to look up to. "If you're the first, you have to have thick skin. You have to persevere."
Posted: August 18, 2022
Category: Alumni Profiles, College News, Profiles
Tagged as: Gordita Chronicles, Michael Leslie, Telemundo