UFCJC Gator-to-Gator Coaching Program, Alumni and Students Honored in 2022 FPRA Golden Image Awards Competition
The University of Florida College of Journalism and Communications (UFCJC) Office of Careers and Corporate Partnerships (OCCP) received a 2022 Florida Public Relations Association (FPRA) Golden Image Award in the Internal category for the Gator-to-Gator Coaching Program. The award was announced at FPRA's  annual conference in Orlando on Aug. 9.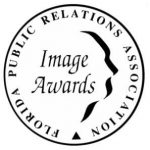 The coaching program, launched during the 2020-2021 academic year, pairs recent graduates with alumni in similar industries for professional development and networking purposes. Alumni coaches help program participants identify how to prepare for sudden shifts and challenges in the job market and to explore possible leads for externships and jobs.
The OCCP team members who contributed to the Gator-to-Gator Program included Director Julie Frey, Marketing Analyst Carlos Lopez, alumna Talia Lopez, B.S. Advertising 2020 and M.A.M.C. 2021, and Professional Master's student Loren Ruffin.
In addition, an FPRA Golden Image Award of Distinction for Social Media was presented to Tina Banner, B.S. Public Relations 1999, Acadia Schwartz, Public Relations sophomore and president of Chomp FPRA, and both the University of Florida Advancement and Strategic Communications, Marketing and Engagement divisions for the Gator Nation Giving Day Social Media Campaign.
Both state-wide award recipients are members of the FPRA Gainesville chapter.
The annual FPRA Golden Image Awards competition recognizes outstanding public relations programs in Florida and encourages and promotes the development of public relations in the state.
Posted: August 17, 2022
Category: Alumni News, College News, Student News
Tagged as: Acadia Schwartz, Carlos Lopez, FPRA Golden Image Awards, Julie Frey, Loren Ruffin, Office of Careers and Corporate Partnerships, Talia Lopez, Tina Banner