Iman Zawahry Named to "Panel of Cool" to Select the 25 Coolest Film Festivals in the World
Iman Zawahry, University of Florida College of Journalism and Communications Media Production, Management, and Technology lecturer and award-winning filmmaker, was part of a seven-member panel tasked with assembling the 25 Coolest Film Festivals in the world. The members, all with film festival expertise, were profiled in "Meet the Panel of Cool for Our 25 Coolest Film Festivals 2022" published on moviemaker.com on July 20.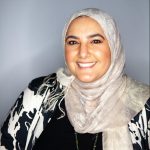 Zawahry was selected for the panel based on her credentials. She is one of the first hijabi American-Music filmmakers in the U.S. She is an Emmy Award-winner, Princess Grace Award recipient and a fellow at the Lincoln Center Artist Academy and Sundance Momentum. She is also the co-creator of the first American Muslim film grant with Islamic Scholarship Fund, where she currently serves as director of Film Programs. Her debut film, "Americanish," is now on the festival circuit and has won more than 20 awards.
Posted: July 25, 2022
Category: College News
Tagged as: Iman Zawahry