Clay Calvert Comments on Backlash from Publishing Controversial Newspaper Op-Ed
Clay Calvert, director of the Marion B. Brechner First Amendment Project and Brechner Eminent Scholar in Mass Communication at the University of Florida College of Journalism and Communications, is quoted in "Sarasota Herald-Tribune Deletes Op-Ed by Proud Boy Wife After Backlash – But Doesn't Address Major Conflict" published on medialite.com on July 11.
The story focuses on how the newspaper was criticized for publishing an op-ed defending the Proud Boys by Melissa Radovich, identifying her as a mother and executive at an area manufacturing company, rather than the wife of Proud Boys member Nicholas Radovich. The backlash was intense due to lack of disclosure.
According to Calvert, "The controversy over this op-ed proves the point that newspapers need to do some background research in terms of who is writing guest columns and opinion columns before they're published."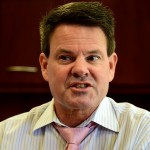 "Readers have a right to know if there are any conflicts of interest," Calvert said. "That's the key here, that if readers knew the source of the column, then they could discount its credibility. Here the conflict was being married to a Proud Boy. It seems pretty clear."
The newspaper responded that it would not provide a forum for an extremist group and would establish a "higher level review" process for accepting submissions.
Calvert adds, "The paper is to be lauded for eventually recognizing a failure in its editorial review process. It would now be helpful for it to articulate specifically what the 'higher level review' process entails."
Posted: July 12, 2022
Category: College News, Diversity News and Profiles, Marion B. Brechner First Amendment Project News
Tagged as: Clay Calvert, Marion B. Brechner First Amendment Project