CJC Student Journalist Experiences the World of Golf First Hand
By Cristina Santiago Espinet, Journalism Senior
In June 2022, I was honored to participate in the Lee Elder Internship at the U.S. Open.
I discovered the internship through the Sports at CJC newsletter. I was hesitant to apply, because while I am a journalism major with a concentration in sports and media, I hadn't focused on covering golf, yet. My only experiences in the sport came during my sophomore year of college while I was working as a beverage cart girl at a country club, which allowed their employees to play for free.
Free from the high hopes of being chosen, I decided to take my shot.
The Lee Elder Internship was created by The Country Club and the U.S. Golf Association (USGA)  in honor of professional golfer Lee Elder, who was the first African American to play in the Masters tournament. Elder expressed to attorney Macey Russell, who was the major contributor to making the internship happen, about wanting to create a program that advanced the game of golf to be more diverse and inclusive. Two years later, thanks to numerous benefactors, his idea became reality.
Over 300 people applied for the program, but only 25 were chosen. Among those 25 was my classmate Manny Rodriguez-Lipido, an Advertising junior.
The internship experience was all-expenses-paid, and provided hands-on learning including information on venue administration, sales and marketing, course upkeep and design, tournament operations, media coverage, broadcasting, and more.
So, on June 11, 2022, I boarded a plane to Boston, unsure of what this experience had in store for me.
Later that afternoon, I arrived at the Pine Manor College dorm, the location where all of the other interns were staying for the duration of the trip.  The dorms were in a great location as we were within walking distance from The Country Club. That night we all ate pizza and played trivia to get to know each other better.
We were given apparel by Ralph Lauren and NOBULL to be used as our uniforms for the week.
Sunday, June 12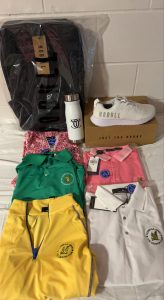 The day started with an orientation, where Kristen LaCount welcomed us. LaCount made history as the first woman to be The Country Club's general manager and COO. She shared how special The Country Club was for her and hoped it would become a special place for us as well.
Following LaCount's presentation, Macey Russell spoke to us and expressed his excitement for this internship experience .
Club historian Fred Waterman told us about the history of The Country Club, which, founded in 1882, makes it the oldest country club in the U.S. It was one of five charter clubs that formed the USGA, and has hosted various USGA tournaments.
We listened to a panel featuring Todd Graff, the vice president of CTP (advertising, PR, and digital agency), Marisa MacDonald, director of Human Resource for The Country Club, Brendan Walsh, director of golf at The Country Club, and Will Fulton, the U.S. Open general chair. They spoke to us and welcomed us to the "Squirrel Squad," which is what The Country Club staff calls themselves.
Once orientation was over, we received our credentials and set out for a tour of The Country Club.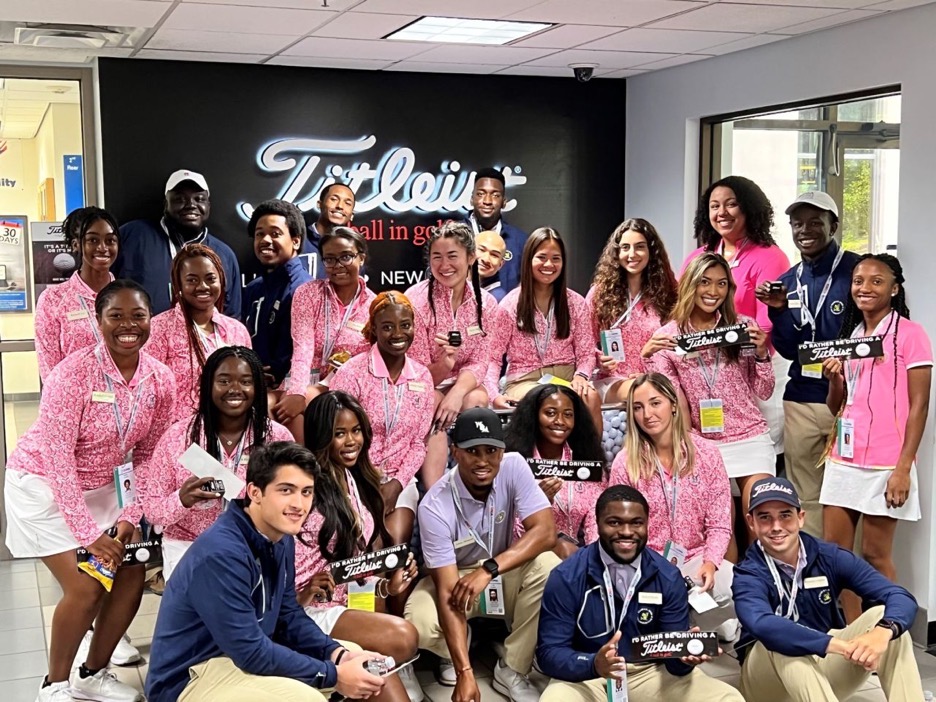 The golf course was stunning and massive. As we made our way to the 18th hole, we met and spoke to Jason Gore, USGA senior director of player relations,  and John Bodenhamer, Chief Championships Officer.
Then we toured Titleist's Ball Plant 3, where I saw firsthand the advances in golf ball technology. We were even greeted by the Titleist President Mary Louise Bohn. The tour was impressive; it was mind blowing to me to see how much work goes into the process of making golf balls.
Next, we went to the Manchester Lane Test facility where I saw a robot hit a golf ball. The robot is used to test the products. Later on, the Titleist staff showed us the "Tiger Tee," which was the tee that Tiger Woods requested to test out his swing and golf balls. Afterwards, they treated us to dinner at their course, which had a beautiful view.
Monday, June 13
The day began with a trip to the merchandise tent, where we learned about the process of sales and marketing. At the end of the tour, they allowed each intern to pick out any hat we wanted.
We then went to the practice range, where we were able to see professional golfers Adam Scott and Cameron Smith hit some balls.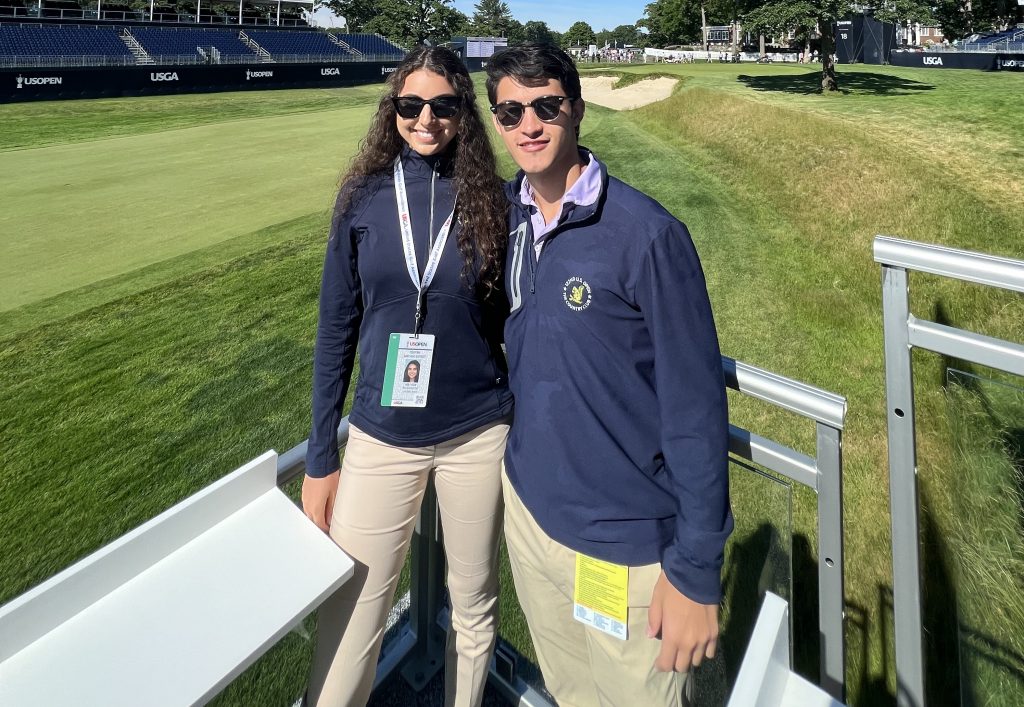 We visited the USGA Historical Exhibit, which was named "Hard-earned Glory" and focused on the U.S. Open, The Country Club, and the USGA's efforts to highlight diversity, equity, and inclusion.  At the exhibit, I saw the golf club that was made and used by John Shippen, believed to be the first American-born golf professional, and his 1927 United Golfer Association trophy. We also saw the "mashie niblick" club used by golfer Francis Ouimet when he won the 1913 U.S. Open.
After we finished our tour of the exhibit, we engaged in a fascinating leadership panel and educationally immersive experience at consulting firm Deloitte.
The panelists included:
Quincy Miller – President and Vice-Chair of Eastern Bank
Tanya Duncan – EVP of Revenue Strategy of the Mass Bankers Association
Segun Idowu – Chief of Economic Opportunity & Inclusion of the City of Boston
Jonathan Allen – Cofounder and Director of Development of Leadership Brainery.
The panel's advice included:
Do not wait for anyone to create your path. You create your path.
No one has a hold on what you can do.
Don't let other people define what success and failure are for you.
You don't have to have the title of a leader to be a leader.
After the panel, we participated in a business chemistry session with the Deloitte leadership team, where we learned which personality types we are and how to work effectively with other personality types.
Following the session, we went to dinner at the 'Quin House, hosted by Macey Russell and Boston Celtics co-owner Dr. James Cash.
At the dinner, I sat with Russell, T.J. Rose, a partner at private equity firm Abry Partners, and the Honorable Frederick L. Brown. They shared fascinating stories and great advice on being successful.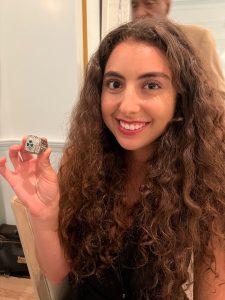 I also was able to talk to Dr. Cash, who gave me great advice about perseverance and embracing tribulations. He also let me see the Celtics' 2008 championship ring, which he so casually pulled out of his pocket.
The evening was spectacular because I was able to meet successful people who gave me a significant amount of wisdom to become successful at the career I want to pursue.
Tuesday, June 14
The day started with a transportation/parking volunteer services tour, where I learned about the importance of volunteers and the process that goes into recruiting and training.
Next, we went to the Deloitte hospitality tent, located on the 18th hole. We received a U.S. Open flag and hat, and a signed copy of "The Greatest Game Ever Played."
As I was heading to lunch, I was fortunate enough to run into professional golfers Bo Hoag and Marc Leishman, who I spoke to before they signed my flag.
Afterward, we went to a lunch hosted by Tom Hynes, co-chairman of Colliers International's Boston office. Before lunch began, we met Marcus Wilson, the co-founder of NOBULL. He spoke to us about the importance of partnership, and he shared his story of how he became successful in the business industry. He also emphasized that confidence is everything and that no one will believe in your ideas if you don't believe in your ideas yourself. During the lunch, I was thrilled to meet several leaders from various organizations, including the Boston Red Sox, NBC Sports, and more.
Then I went to the Diversity, Equity, and Inclusion (DEI) panel, which focused on relationships, networks, the DEI advantage, and giving back.
The panel included:
Phyllis Barajas – founder and CEO of Conexion
Howard Bryant – American author, sports journalist, radio and television personality
Nicole Obi – President and CEO, The Black Economic Council of Massachusetts
Pratt Wiley – President and CEO, The Partnership Inc.
The points that resonated with me were:
Don't wait around. Be initiative.
Be beyond
The importance of mentorship
Embrace your authentic self and differences
At the end of the panel, Howard Bryant gave us his book, "Rickey: The Life and Legend of an American Original," a biography of baseball Hall of Famer Rickey Henderson.
Soon after, we had the first rounds of presenting our pitch. We were placed in groups of five, where we presented in front of two USGA staff members. I was selected to be a finalist for the final round. This included working with Kamille Ramos, the USGA's assistant director in DEI, Culture, and Community, who helped me refine my pitch and presentation over the two days.
Wednesday, June 15
This was one of my favorite days as we had NBCU Academy come in and talk about their program and what it takes to work in the sports broadcasting industry. We had an NBCU Academy Professional Development session, which focused on effective communication, time management, responsible social media, and navigating DEI.
The people who presented included:
Caroline Delfin – DE&I Specialists, NBC Sports
Crystal Fisher – V.P. Business Development and Strategy and TV Streaming at NBCU
Dana Haller – V.P., Custom Productions, Events & DEI, NBC News
Thomas McKee – Director, Partnerships & Programming, NBC Sports
Ron Newsome – Manager, Diversity & Community Impact, NBC Sports Next
Devon O'Nalty – Director, DEI Strategic Partnerships & Initiatives, NBC Sports
Damon Phillips – SVP Director Strategic Partnerships & Initiatives, NBCU Academy
Sandy Sharp – Director of Strategic Partnerships & Initiatives, NBCU Academy
Erika Spinale – Coordinator, DE&I, NBCU Academy.
The main takeaways were:
Be unique with your storytelling
Create cultivating relationship
Think ahead
Seek mentorship
Create small changes to improve yourself every day
Do not confine yourself to the box
Afterwards, I was asked to go to an interview with Golf Digest. Two other interns and I were given media training before the interview. The interview with Golf Digest was extremely exciting.
Soon after, we were taken to the NBC Sports set, where we took photos and saw the behind-the-scenes of how the broadcast productions work.
Later that night the Golf Digest article was published, and I was really pleased about how the piece turned out.
Thursday, June 16
The day started with a visit to the NBC broadcast compound. I was interviewed by Matt Reed, a reporter for ABC news affiliate WCVB Boston, to talk about the internship program.
After being interviewed, I went to the player services area, where I met professional golfer Rickie Fowler. I then went to tour the player's locker room, where I ran into professional golfer Justin Thomas.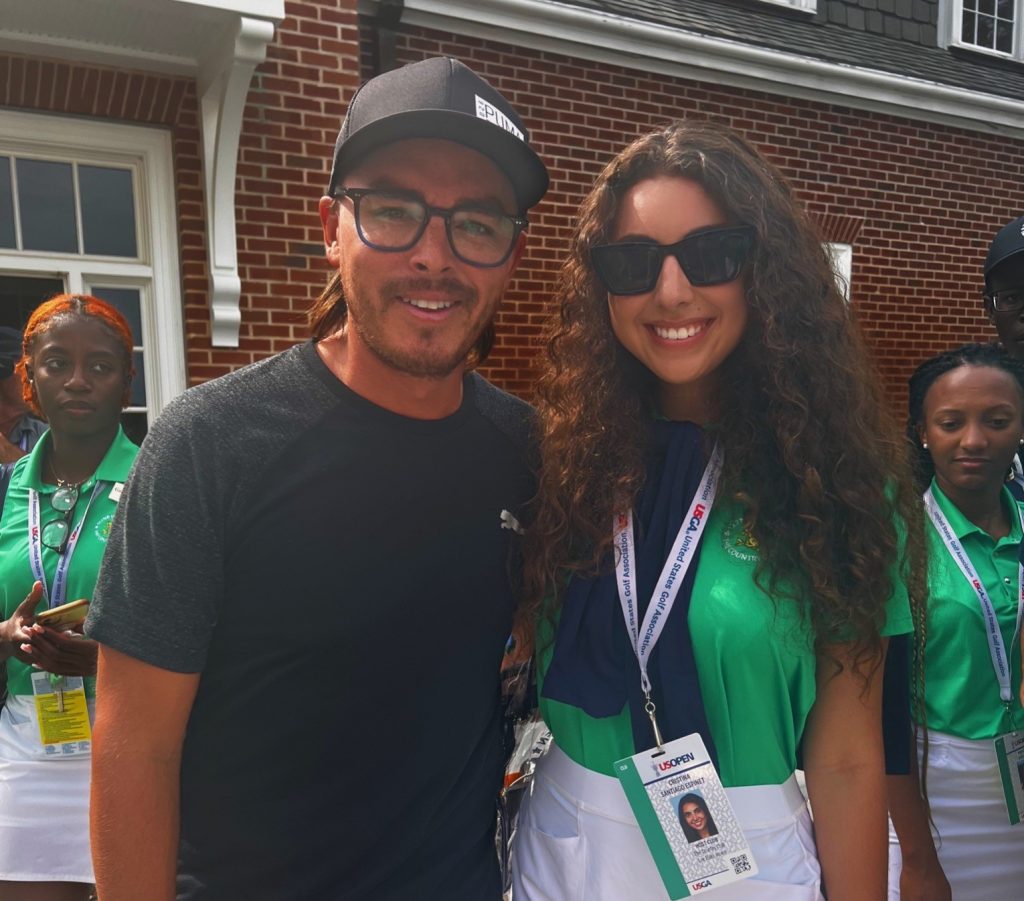 After the player services tour, I went on a media and communications tour where I could see journalists and other media representatives at work.
Afterward, we went to a women-in-sports panel that included:
Tari Cash – Founder and CEO of Citywing
Raquel Ferrerira – Executive Vice President & Assistant General Manager of the Boston Red Sox
Kristen LaCount – General Manager & COO of The Country Club
Sherry Whay – Founder & CEO of Fairway Management.
It was very inspiring to see women of all backgrounds share their struggles in the sports industry and explain how they were able to overcome them and become game-changers in the field.
The main takeaways were:
Golf is a door to build relationships in the corporate world
Be in charge of your label, and don't let anyone label you.
Go forward, progress, and continue this cycle
Continue to persevere.
Next, there was the USGA Leadership Panel that included:
Chris Fraser – Chief Legal & Human Resources Officer
Michael Lee – Associate General Counsel
Bryan Miranda – Senior Director of Partnerships
Amanda Weiner – Managing Director, Digital Media, and Ticketing
Kamille Ramos – Senior Manager, Diversity, Inclusion & Talent Acquisition.
The main points were:
Never say no to anything. Always say yes.
Go above and beyond
Watch your words – If you don't want to read it in the New York Times, don't say it
Show up on time and be present
Be open
Be curious
Have passion outside of work.
After the panel ended, I quickly got ready for the Tee Up Diversity event that was hosted by actor and comedians Anthony Anderson and Chris Spencer, and NBC Sports Desk Commentator Damon Hack. African American professional golf trailblazers Jim Dent, Jim Thorpe, and Renee Powell were among the guests.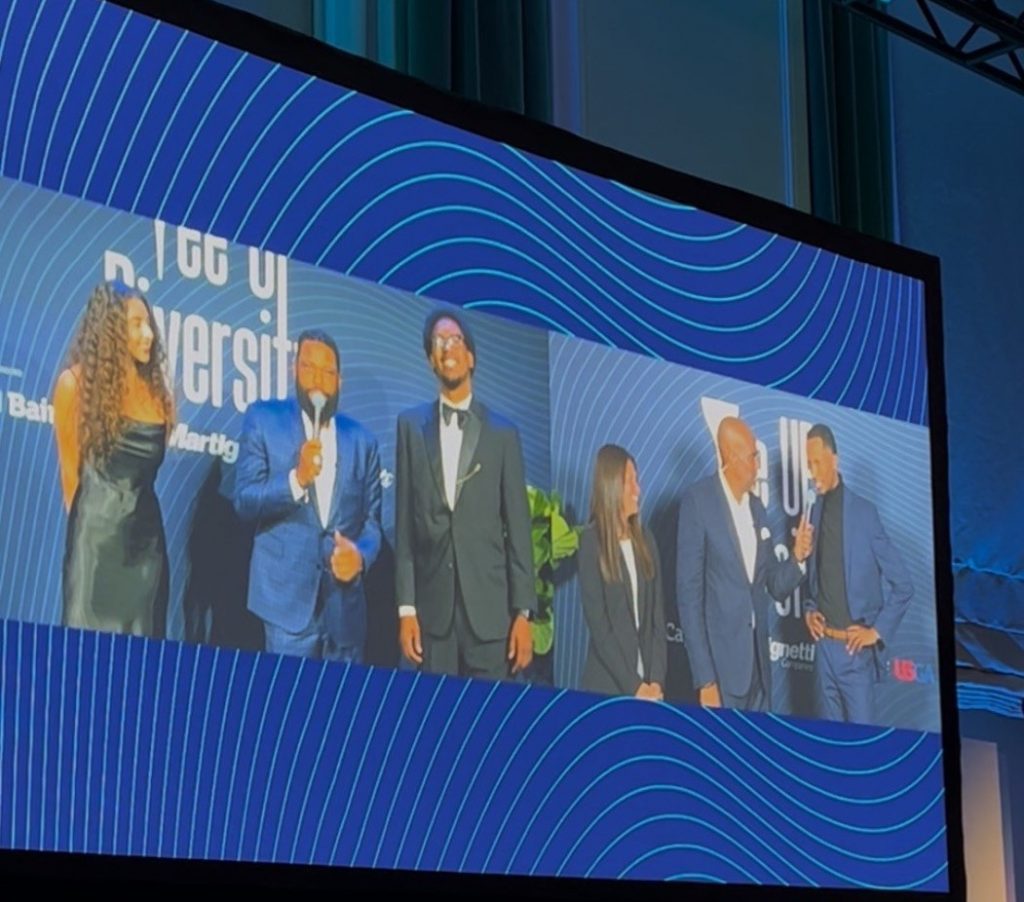 Going to the event was extremely exciting as my intern class was celebrated, and Anthony Anderson even pulled me on stage.
I also had the opportunity to talk to Damon Hack. He gave me great advice as a reporter, emphasizing the importance of research and being knowledgeable within the field.
It was an incredible night as I gained great advice and even took photos with Damon Hack and Anthony Anderson.
Friday, June 17
This day meant the most to me, and even though it was stressful, it was an incredible experience.
Before starting the internship, we were emailed instructions on a pitch presentation. We were expected to present a two-to-three minute pitch on an idea to make the game of golf or business of golf more diverse and inclusive. Before going to Brookline, I worked on the project and gathered ideas with the help of various people within the CJC staff. Overall, my pitch focused on the problem of the lack of representation in the Hispanic community. I came up with three solutions to help this issue within the golf industry.
On Friday, I worked on my pitch and PowerPoint all morning. At 2 p.m., I presented my pitch to USGA CEO Mike Whan, USGA Executive Committee Member Tony Anderson, USGA Managing Director of Human Resources Michael Lee, USGA CFO Susan Pitch, Dr. Cash, former professional golfer Candy Hannemann, Leslie Read, principal/Consumer Experience at Monitor Deloitte, the rest of my internship class, and the entire internship committee.
On top of all of that, NBC and the Golf Channel were filming the presentation.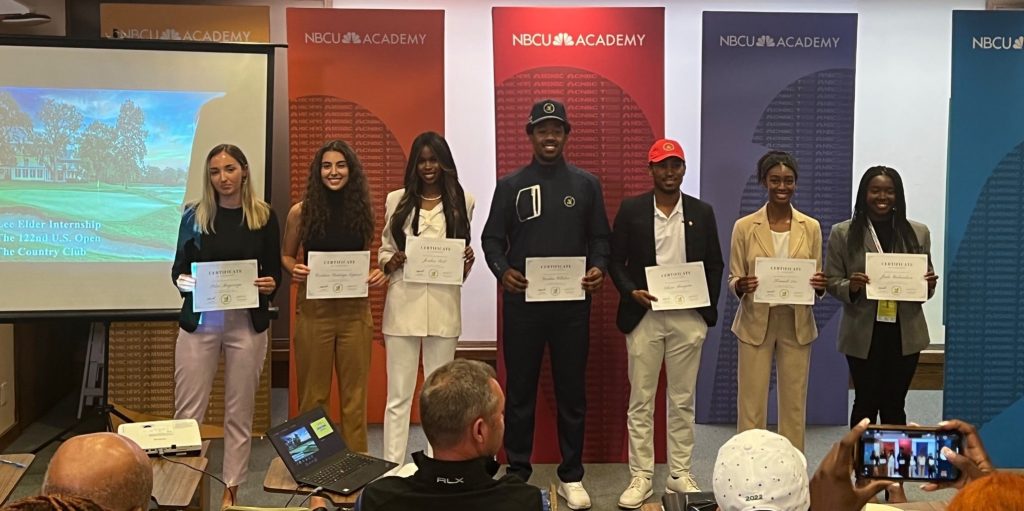 This presentation meant a lot to me. I really wanted to make everyone proud because there were clearly many important people in the room. The pressure was on.
Before I presented, I was introduced by Kamille Ramos. During her introduction, she mentioned that I attend the University of Florida. As I walked toward the center of the room, everyone started doing the Gator chomp. I immediately smiled and my nerves went away, as I felt I was back in The Swamp.
After all of the presentations, the finalists received a certificate for being selected as finalists in the Lee Elder Internship Pitch Competition. USGA CEO Mike Whan told me that there needs to be more people like me within the golf industry. Then he spoke to the entire intern class where he made us stand up and repeat back to him "You need me. I am the future".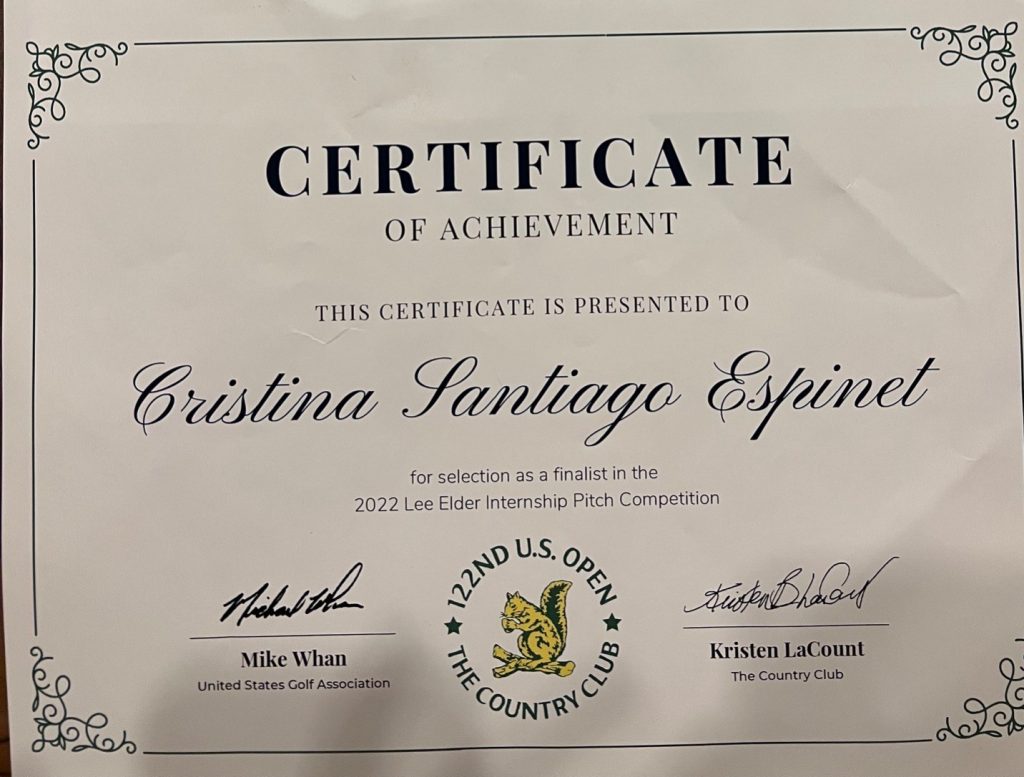 Saturday, June 17
Our "A Day in Boston" was hosted by The Greater Boston Convention and Visitors Bureau. It began with lunch at one of the oldest restaurants in Boston, the Union Oyster House,  which is listed as a national historic landmark. The restaurant had various historical figures visit, including John F. Kennedy, George Washington, Daniel Webster, and more. I even had Boston cream pie for the first time.
After lunch, I walked around the area, where I got to explore the Quincy Market. Later on, I went on the Boston duck boat tour, where I learned about the history of downtown Boston and even went into the Charles River.
Next, I went to Fenway Park to see the Red Sox play the St. Louis Cardinals. There were many fun surprises, including an appearance by "Big Papi" David Ortiz, who was there as part of a pre-game tribute to Alberto Pujols. Neil Diamond was there to sing Sweet Caroline with the cast of his new musical A Beautiful Noise. On top of that, I had great seats as I sat right behind the Cardinals' bullpen.
Sunday, June 18
Sunday was our free day. I watched the U.S. Open with the other interns. I mainly followed Justin Thomas, and by coincidence, I met his dad Mike Thomas who coaches Tiger Woods' kids. Pilar, one of the interns, has the Tiger Woods logo tattooed on her ankle. Thomas went up to her and asked if he could take a picture of it to send to Tiger. Pilar obviously said yes.
While watching Justin play, I received a text message from a friend saying, "I can spot the curly hair from a mile away," and shortly after he sent a photo of me on TV. That was the moment that I realized that NBC aired the segment about the internship. I then received text messages from other friends, including Eric Esterline, director of the CJC Sports Journalism and Communications Program, mentioning how they saw the segment.
During the tournament, I had the opportunity to meet Golf Channel broadcaster Kira K. Dixon, who gave me great advice on going into a career in sports broadcasting and allowed me to shadow her. I was able to get a special pass for the 18th hole to watch her film Mike Fitzpatrick being named U.S. Open champion. It was an incredible experience to see behind-the-scenes of the job of a sports broadcaster.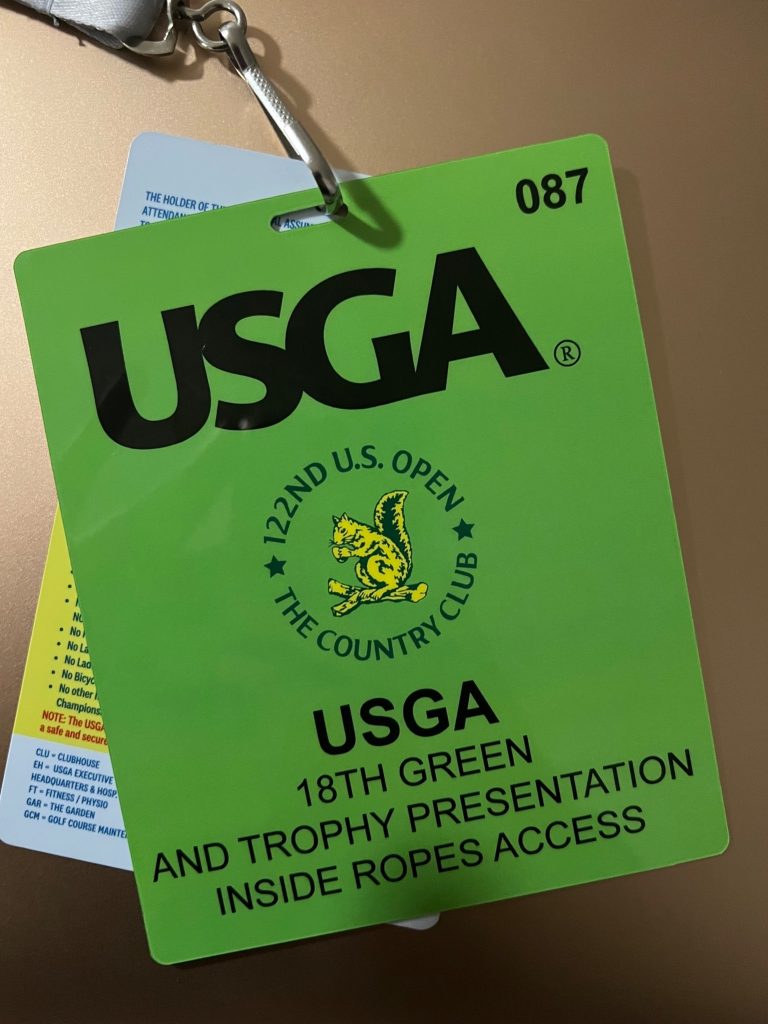 Overall, it was fantastic to see a historical moment and to experience the excitement of Fitzpatrick's win.
The internship was an unbelievable experience, and I am honored to have been selected to be a part of it. The friendships and memories I made were extraordinary.
I already miss the nights when I would play late-night rounds of Uno with the other interns and The Country Club staff.
I came out of this internship with incredible friendships and as a new person — a woman who is confident of her abilities and optimistic about her future within the sports industry. This internship was an unbelievable experience that taught me to embrace my differences and that there is a place in the sports industry for a Latina woman like me.
Posted: July 7, 2022
Category: College News, Diversity News and Profiles, Profiles, Student News
Tagged as: Cristina Santiago-Espinet, Golf, Lee Elder