Tom Kelleher Named UF Graduate School Associate Dean for Academic Affairs
Tom Kelleher, University of Florida College of Journalism and Communications (UFCJC) Associate Dean for Graduate Studies, today was named Associate Dean for Academic Affairs at the UF Graduate School. He will begin his new role on July 1, 2022.
As Associate Dean for Academic Affairs, he will promote graduate education with all UF administrative units holding graduate programs, university committees, the Faculty Senate, Graduate Council, and central administration. He will lead the UF Graduate School's Student Records, Editorial Office, and Data Management units, and will work with the Graduate Council and Graduate Curriculum Committee to ensure the integrity, thoroughness, rigor, and value of graduate education at UF, for both students and faculty members. Kelleher succeeds Paul Duncan, who served as the Graduate School's Associate Dean and Senior Associate Dean for Academic Affairs since 2013, and is retiring after 43 years.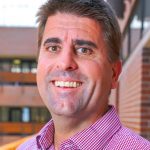 "Tom has made a tremendous difference in the College, first as Advertising Department chair and now as Associate Dean," said Hub Brown, UFCJC dean. "He has grown the graduate program in size, reach, and impact. He has helped grow research productivity across the College, and he's helped seal our reputation among the top graduate mass communication programs in the nation. He has also been a fierce advocate for our master's and Ph.D. students, and has had their well-being in mind every day. We will miss his many contributions to CJC, but I look forward to our partnership with him in his new role at the UF Graduate School."
Tom received both his master's and Ph.D. degrees from UFCJC and his bachelor's from Flagler College. He joined the faculty in 2014 as Chair of the Department of Advertising and was named Associate Dean of Graduate Studies and Research in 2019. During that period, graduate programs, including the Online Master's program led by Evan Kropp and the Professional Master's program led by Lissy Calienes, saw a number of achievements, including:
Thirty online and on-campus courses were approved through the state level.
Three new graduate certificates, three on-campus concentrations, and eight online concentrations were proposed and approved.
Master's enrollment grew 132% (from 359 to 833 students) between fall 2019 and fall 2022, while maintaining Ph.D. enrollment at about 60 students.
Average time to doctoral degree went from 4.8 years for the cohort entering in 2015 to 4.0 years for the cohort entering in 2017.
Two thirds of the doctoral graduates during that time have gone on to faculty positions after graduation.
Since 2018, research grant proposal amounts increased 219% and awards increased 424%.
From 2017-2020, the College ranked third nationally among public AAU journalism and communications programs for articles per author, according to Academic Analytics, and tied for fifth on their Scholarly Research Index.
Kelleher's graduate student mentoring includes experience serving as supervisory chair, co-chair, member, or external member for 18 doctoral students at UF (11 of whom have graduated to date) and 52 master's degree students at UF (with 44 graduated).
Prior to joining UFCJC, he served as a faculty member at the University of Hawaii for 12 years, chairing its School of Communications from 2010 to 2013, and at the University of Chapel Hill from 2004 to 2006.
His research record includes publication in numerous journals including Journal of Communication, Journal of Computer-Mediated Communication, Journal of Public Relations Research, Journalism & Mass Communication Quarterly, Computers in Human Behavior, and Journal of Mass Media Ethics. In 2018, Oxford University Press published his second book, Public Relations, an introductory textbook that covers fundamentals with organic integration of practical ethics and digital, social, and mobile technologies (2nd ed. published in 2021).
Posted: June 27, 2022
Category: Alumni News, College News
Tagged as: Tom Kelleher