Cynthia Morton Comments on the Increase in Advertising Appeals to Fathers
Cynthia Morton, University of Florida College of Journalism and Communications (UFCJC) Advertising professor, was quoted in "Dadvertising': The Role of Fathers Are Evolving, and Advertisers Are Taking Notice" posted on Tampa Bay's fox13news.com on June 6.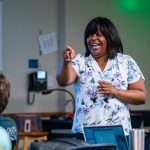 The story focuses on ads that appeal to fathers who are spending more time at home with the kids and taking on more responsibility with the household. Some experts say dads are now considered to be on equal footing with moms in the ad world.
"What happens in society and what we see in advertising portrayals are very closely tied. One of the notes is that there is more of a positive attitude among anxious new fathers. These are portrayals of men who are not afraid to lean into being the primary caretaker if they have to," said Morton.
Morton and UFCJC colleagues presented research on "dadvertising" at the American Academy of Advertising conference in 2021. A summary of that research is available here.
Posted: June 21, 2022
Category: College News
Tagged as: Cynthia Morton