Katie Hyson Receives GroundTruth Award in Report for America 2021-2022 Local News Awards Competition
Katie Hyson, University of Florida College of Journalism and Communications WUFT News Report for America journalist, won the prestigious GroundTruth Award and first place in Feature Writing at the Report for America 2021-2022 Local News Awards for her story "How a Black Marching Band Style Was Erased From Gainesville's Fields, And Why it Matters Decades Later."
Hyson was one of only two Report for America journalists, and the only writer, to win multiple awards in this year's competition.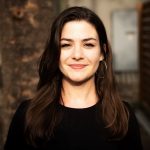 Hyson's story included nearly a dozen interviews with Gainesville's Eastside High School band alumni and former band directors. Old decisions still ripple through the community including how high school students are allowed to march on the football field during halftime. When most schools were transitioning to the corps style of marching – Eastside's marching band remained distinctive – until the band incurred obstacles.
Hyson received the award on June 10 at "National Gathering 2022" held at Loyola University Chicago. The event brought together hundreds of Report for America corps members for the first time since the start of the pandemic. Report for America journalists Gabriella Paul, B.S. Journalism, and Jessica Rodriguez, B.S. Journalism 2018, were also in attendance.
Report for America is a national service program that places talented emerging journalists in local newsrooms to report on under-covered topics and communities across all 50 states. It is an initiative of the  The GroundTruth Project, for the award-winning nonprofit journalism organization dedicated to rebuilding journalism from the ground up.
Posted: June 13, 2022
Category: Alumni News, College News
Tagged as: Katie Hyson, Report for America