Clay Calvert Authors Article on Academic Freedom and Free Speech
Clay Calvert, director of the Marion B. Brechner First Amendment Project and Brechner Eminent Scholar in Mass Communication at the University of Florida College of Journalism and Communications, is the author of "Expert Testimony by Public University Faculty: Exposing Doctrinal Deficiencies of Academic Freedom and Proposing a Solution Within the Public-Employee Speech Doctrine" published in the University of Miami Law Review, Volume 76, Number 3.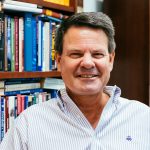 In the article, Calvert recounts how UF prohibited three professors from serving as expert witnesses in a lawsuit filed against the State of the Florida. The decision sparked a national debate about academic freedom and free speech at universities.
According to Calvert, "This article asserts that the constitutional doctrine of academic freedom is sadly deficient for resolving such lawsuits. The article explains, instead, that the public-employee speech doctrine provides the appropriate framework for analyzing cases filed by public university professors who are barred from testifying as experts in litigation where the state affiliated with the professors' university is a defendant."
He adds, "This should not render irrelevant the constitutional value of academic freedom when courts examine such cases under the public-employee speech doctrine. Indeed, the article contends that academic freedom should be treated as a substantial interest that must be balanced against a university's rationale for blocking expert-witness testimony."
Posted: June 13, 2022
Category: College News, Diversity News and Profiles, Marion B. Brechner First Amendment Project News
Tagged as: Clay Calvert, Marion B. Brechner First Amendment Project