Pulitzer Prize-Winning Alumnus Shares How his Love of Photojournalism and Storytelling Changed his Life
By Lenore Devore, B.S. Journalism 1984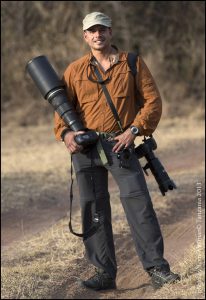 Two-time Pulitzer Prize winner in photography Essdras Suarez, B.S. Journalism 1993, is quick to tell people who's responsible for his career: the late Journalism Professor Helen Aller and "Mr. F," Journalism Associate Professor John Freeman.
Suarez was raised by his grandparents and uncles in Panama, living in a home behind his uncle's grocery store. When he visited another uncle's drug store, he started flipping through the pages of National Geographic. "I started getting an inkling from a very young age that there was a big world out there."
He was raised to believe if you earn a college degree in the United States, you will be better off when you return to Panama. Financially, he didn't know if he could afford a U.S. education. Still, he headed to Mississippi, where his mother lived, in 1985 and joined the Air Force.
"A couple of months after completing my medical service specialist training, I convinced my commander I was enlisted under misleading circumstances, and I was then given an honorable discharge" in 1986, Suarez said. He said he became a medic even though his recruiter told him signing a "general" contract "was the best way for me to apply to the Air Force Academy."
After basic training, he returned to Panama, where he was invited to a party. He met a woman named Sara, and they immediately disliked each other. "She thought I was pretentious and conceited because no matter what drink she offered me, I declined, because I am a teetotaler. I disliked her because I thought she was too pushy and a bit of a snob."
After being discharged, he returned to Panama in late 1986, and they ran into each other again – with a different ending. They've been married for 30 years.
| To see more of Essdras Suarez's work, visit here. |
He moved to Miami in late 1988 and attended Miami-Dade Community College for a couple of years, and worked in a bank and at a car dealership. He became eligible for in-state tuition while there and applied to several universities. He was accepted to all, but "I was told UF was the best school for journalism."
He was specializing in magazine writing with a minor in zoology. "I learned English from a young age. But it's only good to a point. If you're not immersed in a culture that speaks the language, your English is not very good. When you are trying to become a journalist, you need mastery of the language."
He struggled with mistakes in Aller's "Introduction to Journalism" class, so she suggested he attend a dinner with the National Geographic's director of photography, Tom Kennedy, a UF alumnus. Although he didn't want to, "She made me go. That one action changed my life. I said: 'Look, Mr. Kennedy, I'm studying this and this and this. What are my chances of working for you?'"
He was told the magazine hired only expert writers, and he would be better off becoming a photographer. He asked what he needed to do next, then drew a caricature of Kennedy sitting on top of the world and gave him the original. "The next time you see that, my portfolio will be attached to it," he said.
Four months later, after switching majors, Kennedy offered him an internship, saying he could only pay him $50 per day. He spent time with two photographers in the jungles of Panama, Costa Rica and Colombia. "They didn't have much time to teach me, but being around them, I learned. It kind of sealed my fate."
The two bonded. When Suarez searched for a job, Freeman was there for him. "He helped me through some tough times when I was trying to get a job. I got 42 rejection letters. I would get back to him and say, 'This is so frustrating, I don't know what to do.' He was always there for me."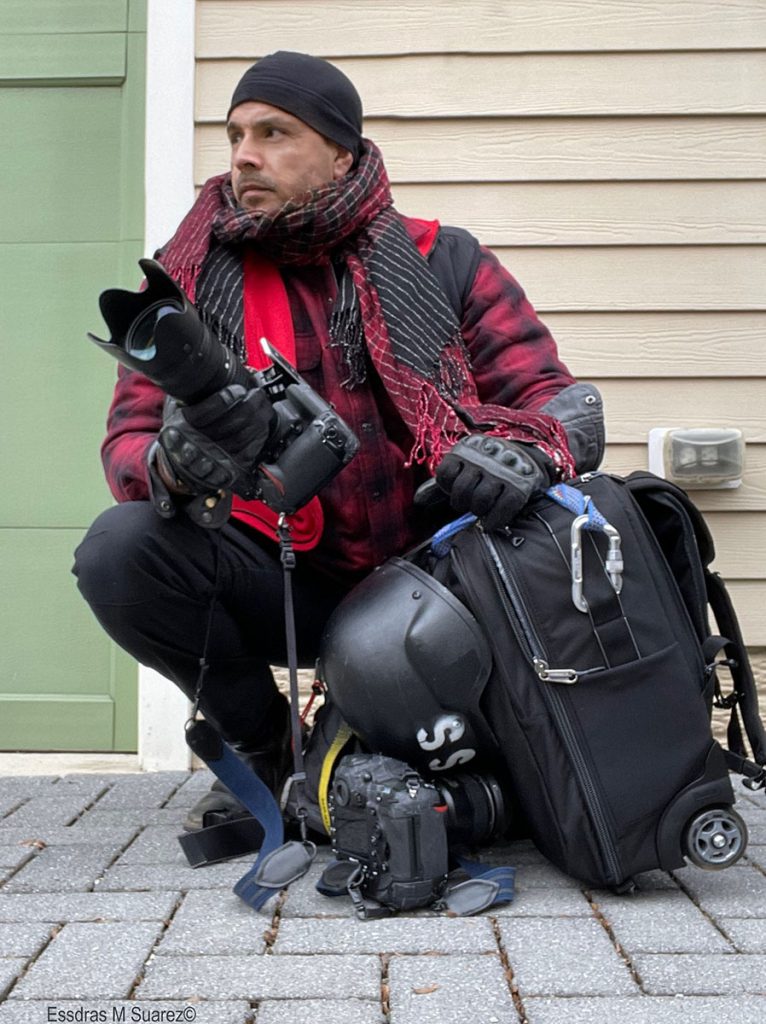 He paid his way through college by dancing. "Everyone used to know me – that's the stripper who goes to the CJC."
He started stripping when he ran out of money halfway through his first semester at UF. "I was going hungry. The Krishnas fed us a nondescript sweet yellow barely edible gruel as they came to proselytize to students on campus. I was pretty desperate."
He worked at the gym on campus but wasn't making enough money. "I saw an ad for exotic dancers for a local agency. I thought to myself, 'Well, I used to model back home. I did some TV and even wore a Speedo for a beer ad. So, how different could this be?'"
His first gig was at a frat house where they were celebrating a little sister's birthday. "It was tough – I didn't know what I was doing – but it all worked out in the end."
When he returned to UF to receive the 2010 Alumni of Distinction award, he scrapped the speech he had written and started telling the students about his 2½ years dancing. "Everyone paid attention," he chuckled.
After college, he became a staff photographer for the Rocky Mountain News, where the photo staff in 2000 won a Pulitzer in Breaking News Photography  for their coverage of the Columbine High School massacre. He remembers covering the shooting vividly, getting off a treadmill at the gym, then rushing home to grab a shower and his gear before heading to the scene without even calling the newspaper. He was the first journalist who was not allowed within the three-mile perimeter. Still, he captured the grief that day, and in the week that followed. He didn't understand why other journalists were asking to be taken off the assignment, until one day.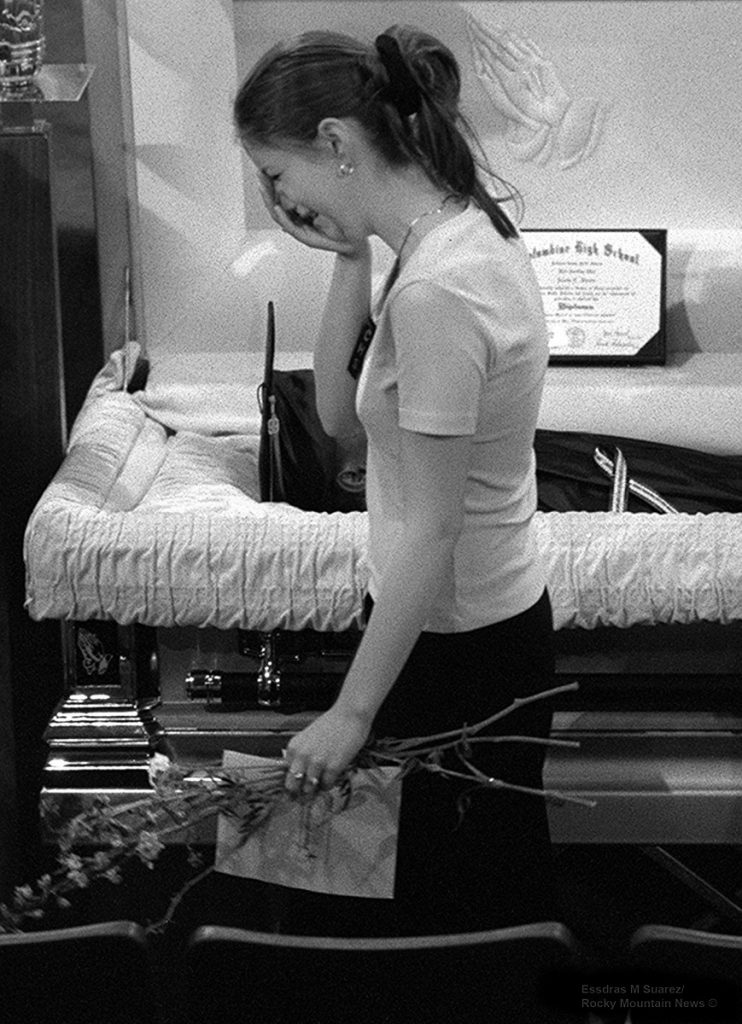 "That day, I didn't want to cover anybody crying or hugging. I was standing beyond a victim's pickup, which became a memorial. Coming toward the truck was a football player. As he moved closer and closer to the pickup, his face became more and more contorted. By the time he got to the truck, I picked up my camera. His shoulders started shaking. His face was in pain. I had dropped my camera; I didn't even know it. Tears were running down my cheeks. … It affected me on a subconscious level." He then asked to be taken off Columbine coverage.
His contribution to the Pulitzer entry was from the funeral. "One African-American kid was shot in the face. His funeral was in a megachurch; 3,000 to 4,000 people waited to pass by. Looking at the line of people, I honed in on one young woman. She started crying as she walked by the casket. I document everything. But would they run a picture of the boy in the casket? They reconstructed his face, but he looked like a mannequin."
After seven years in Denver, he became a staff photographer at the Boston Globe, where he was part of a team that won the Pulitzer Prize for Breaking News Reporting for their coverage of the 2014 Boston Marathon bombing. One of the entries included a photo of a young woman wearing mirrored sunglasses after the bombing. In her glasses, you could see a memorial, a barricade, American flags. "When you think you have a great photo in front of you, make it. Then turn around and see what's there."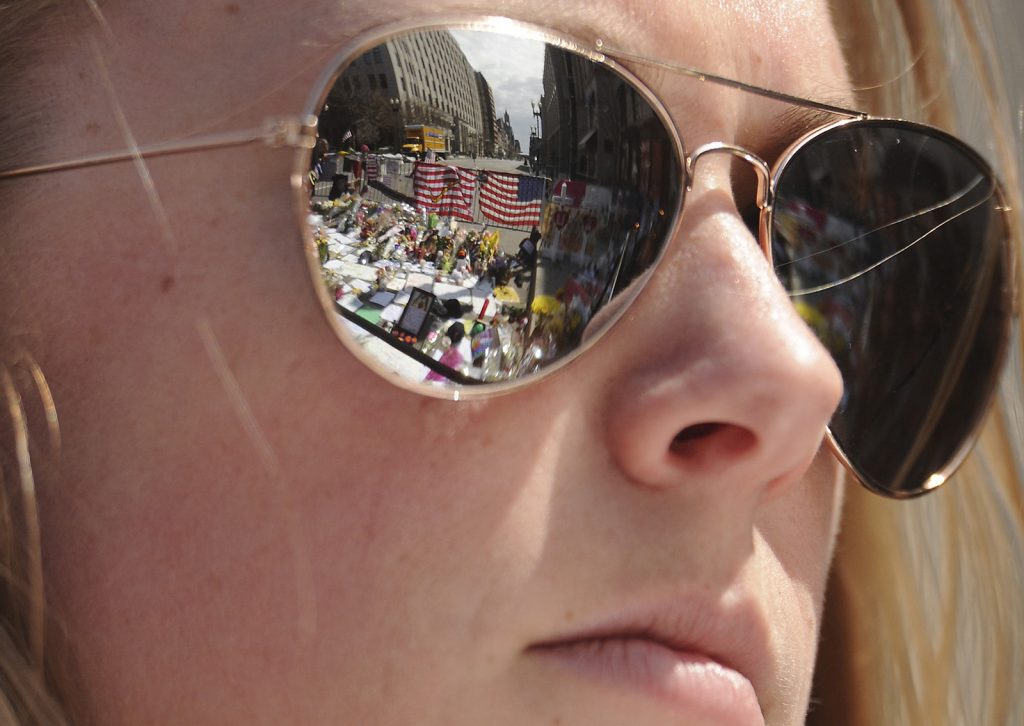 In addition to the Pulitzer Prizes, Suarez has won numerous awards, including two Robert F. Kennedy photojournalism awards, a couple of Headliner Awards for International Photojournalism, and the Society of American Travel Writers Foundation Gold Award, among others.
Suarez left the Globe when the industry started contracting. Management offered buyouts to several people. "I was one of five who received the offer that time around. It broke my heart. I always thought I was indispensable and that the newspaper couldn't go on without me. After much deliberation, I decided to take the buyout. When I told them I would take their offer, I was told, 'What do you mean? You were never supposed to say yes. We offered it to some people we needed to get rid of, and to some people whom we thought would never say yes. You were part of the latter.'"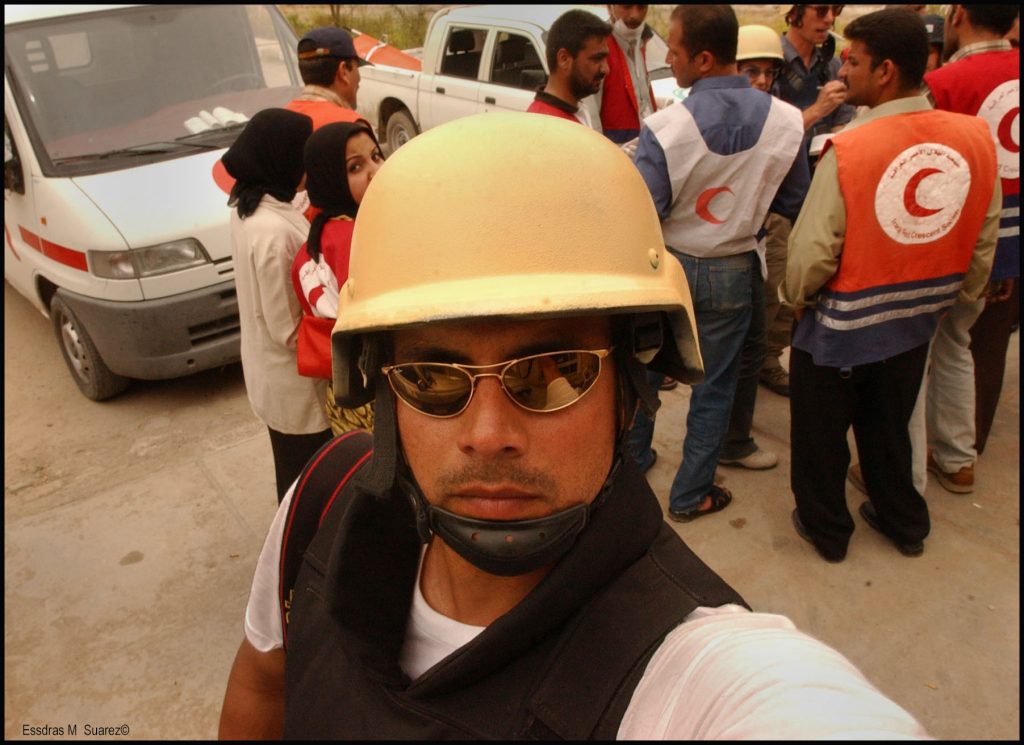 He rethought his future. "I might not be a full-time photojournalist, but news runs in my veins. If I hear shots or I see trouble, I tend to simply run to the chaos with cameras in hand, for it is who I am."
Since leaving the Globe, Suarez, a black belt in Ninpo Taijutsu, has:
Started EMS Photo Adventures. "I left Boston and did photo workshops for a couple weeks while on vacation. I got a taste of it. I still get to shoot while helping people become better photographers."
Teaches journalism and ethics at one- and two-day workshops in Latin America for the Department of State.
Became the chief photographer for million eyez, where people could submit photos on certain themes to be used in online galleries. "It was more about giving the average photo aficionado a way to go outside their circle of influence."
When funding for million eyez dried up, Suarez decided to focus more on his company, EMS Photo Adventures. "I was the little engine that could. I finally had enough programs lined up, then COVID started. It was brutal. I lost all my income, basically. I was frozen. I didn't know if I should be out there making photos."
Still working as a freelancer, he was the only photographer who captured a photo of Congressman Steven Scalise after he was shot at a charity baseball game in 2017 in Alexandria, Virginia, where Suarez lives. "That photo got me more front pages around the world than any other photo in all of my career."
When he wasn't getting paid for his work, he said he was done. Until the Jan. 6, 2021, riot at the Capitol, when his wife told him to "Just do it," he said. "I ended up covering the attack on the Capitol. If I do news again, it's because it's in my blood. It's very hard to make a living these days; it doesn't matter how good you are."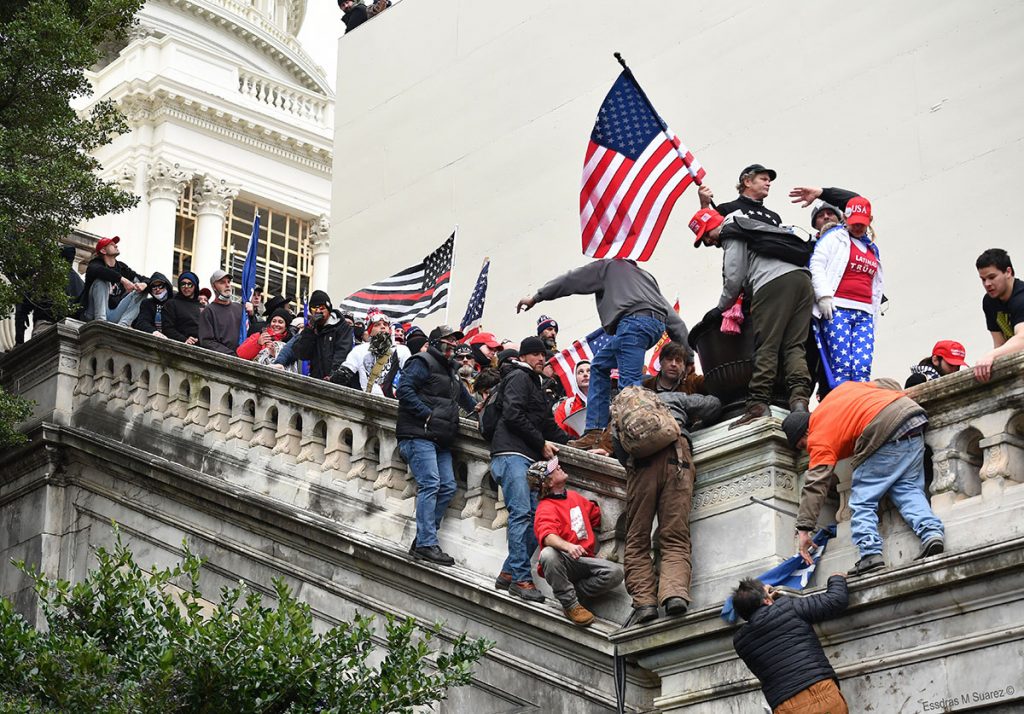 Suarez said he would share advice he was given many years ago with today's photography students: "Give yourself the assignment you want somebody else to give you. You need to be able to make photos in your own backyard before you go somewhere else."
When he was in Denver, he had an assignment in Elyria, a downtrodden neighborhood in Colorado. "It felt wholesome to me. I covered it for 2 ½ years. When I had time, I would go there and photograph. It's a great example of a documentary essay. It was just normal life. I started understanding about light and documenting relationships between people."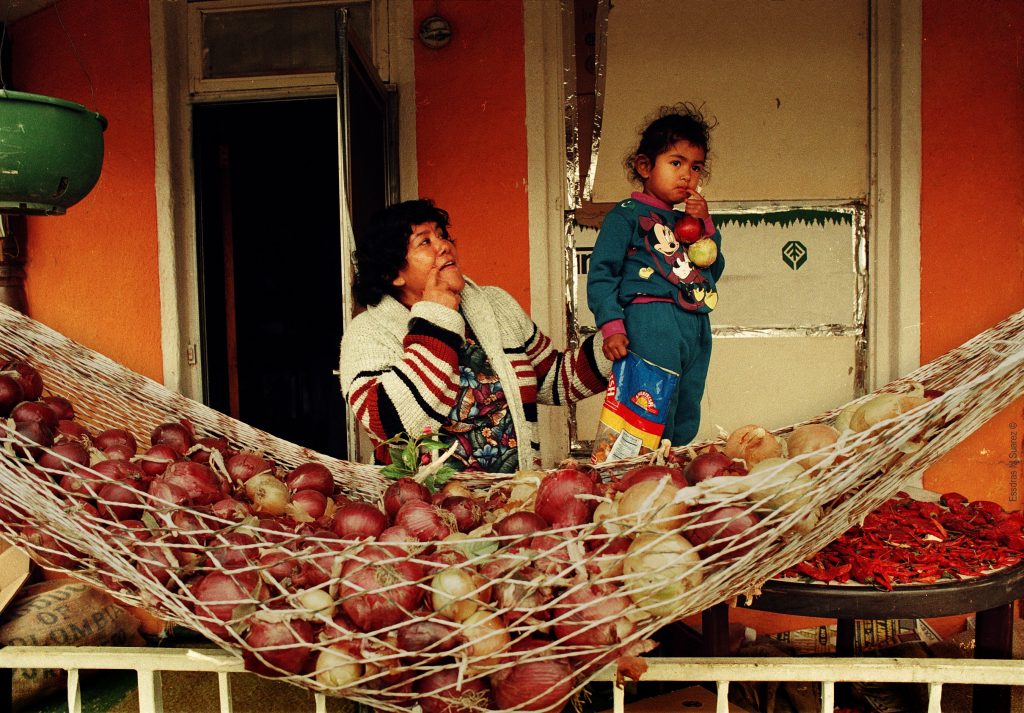 Suarez is now leading photo workshops and doing the occasional editorial and commercial freelance job.
Posted: June 8, 2022
Category: Alumni Profiles, College News, Diversity News, Profiles
Tagged as: Essdras Suarez, Photojournalism, Pulitzer Prize