UFCJC Receives Second Place in the 2021-2022 Hearst Journalism Awards Intercollegiate Competition
The University of Florida College of Journalism and Communications (UFCJC) has placed second overall in the 2021-2022 Hearst Journalism Awards Intercollegiate Competition. UFCJC had the second highest number of accumulated points from the year-long long competitions in writing, photojournalism, audio, television, and multimedia for journalism undergraduates. The University of North Carolina Chapel Hill received first place and  Arizona State University was third.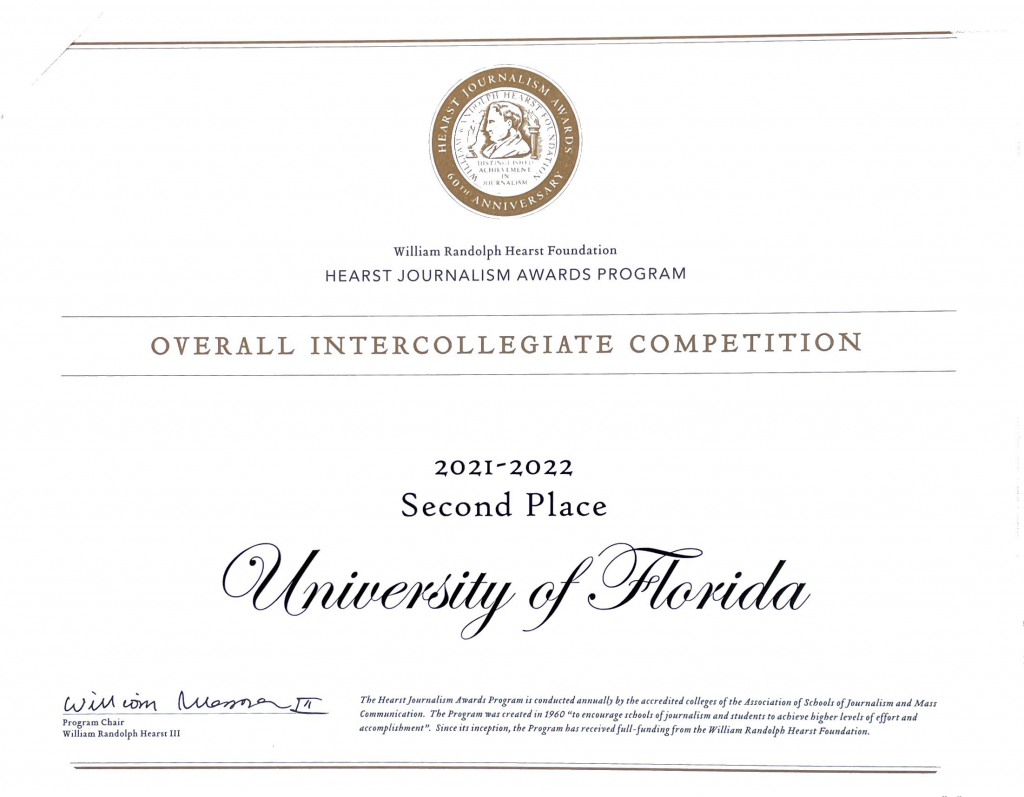 To  qualify for the second place honor in the 2021-2022 Overall Intercollegiate contest, UFCJC received first place in the Intercollegiate Writing Competition, fourth place in Intercollegiate Photojournalism, and fifth place in the Intercollegiate Audio and Television categories.
The College also placed second in the overall competition in 2021 and fourth place in 2020.
Often called "The Pulitzers of college journalism," the Hearst prizes are awarded to the top universities in each division of the Intercollegiate Competitions with the top ten of each category receiving Hearst trophies. The 2021-2022 competition received a total of 1,255 entries.
The Hearst Journalism Awards Program operates under the auspices of the accredited schools of the Association of Schools of Journalism and Mass Communication. It is fully funded and administered by The William Randolph Hearst Foundation. Currently, 103 accredited undergraduate schools of journalism in the United States are eligible to participate in the program, which awards up to $700,000 in scholarships and grants annually.
Posted: May 24, 2022
Category: Alumni News, College News, Student News
Tagged as: 2021-2022 Hearst Journalism Awards, Hearst Journalism Awards