Roxane Coche Comments on How Sports Journalists' Reporting Can Affect the Mental Health of Athletes
Roxane Coche, University of Florida College of Journalism and Communications Media Production, Management, and Technology associate chair and assistant professor, was quoted in "What is Sports Media's Role When it Comes to Mental Health?" published in Global Sports Matters on May 17.
The article focuses on the complicated and sometimes difficult relationship between athletes and sports journalists and references research by Coche and a team of scholars from around the world on meta-journalistic discourse.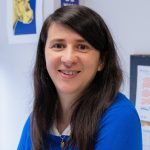 "'Part of the Gig:' Intersecting Metajournalistic Discourse on the Role (and Toll) of Sports Press Conferences," was presented at the International Association for Communication and Sport Summit in March 2022. Findings suggest that English and French journalists framed their coverage of tennis star Naomi Osaka at the 2021 French Open in part by defending the news conference as a necessary part of reporting.
"People don't necessarily like (the news conference), but at the same time, I think there's the uncertainty of 'How are we going to replace it?'" said Coche. "This is something that is being put into question, something that is not perfect but somewhat works. And for journalists, it's being put into question with no solutions offered."
Posted: May 24, 2022
Category: College News
Tagged as: Roxane Coche