Five Questions With…Nicole Weltman
"Five Questions With…" is a series of profiles of CJC graduates and the career paths they chose.
Nicole Weltman, B.S. Advertising 2008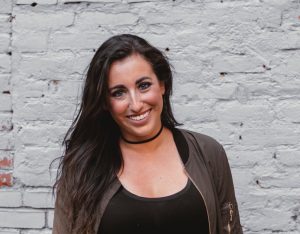 1. Tell us about your current job.
I am the Head of Social at Taco Bell. I am responsible for the brand's social presence, strategy development, owned-content strategy, influencer marketing and community engagement.
2. Why did you choose to come to the UF College of Journalism and Communications?
I always knew I wanted to work in the Communications and had a passion for advertising field, and knew the program at UF was a strong one. This was a no-brainer for me.
3. Was there a defining moment, personally or professionally, at CJC that set you on your current?
Absolutely. I was a member of Ad Society, and as a sophomore I was very eager to start gaining internship experience at the intersection of sports and advertising. Martin Salamone, then head of Marketing for UF's Athletic Association, was scheduled to be a guest speaker at an Ad Society Meeting. I asked the president of the club if I could arrive early and help the speaker set up, as usually there can be a long line of students waiting to meet a speaker at the end of the meeting.
She allowed me to arrive early and my plan worked. He appreciated my hustle and hired me to work as a summer intern in his department. I worked at the UAA for the duration of my time at UF. Upon graduation, Martin introduced me to a contact of his at Sports Illustrated, who offered me my first job. He said "anyone that could work for Martin for three years could work for me." This all would not have been possible without the UF Ad Society!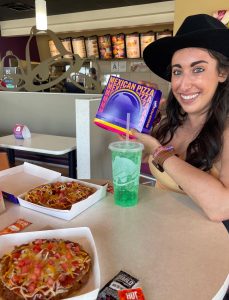 4. What advice do you have for students interested in pursuing a career similar to yours?
Learn as much as you can both inside and outside the classroom and get hands on experience however you can. Any small business or family friend could benefit from social media. Offer to take it over – this is a field where you need the fundamentals of communication paired with on-platform experience. You will learn so much by doing, by experimenting, creating hypothesis and solving them. Keep track of your efforts to build your resume!
5. Where do you hope to be in your career in five years?
This is a hard question to answer, as the social and digital landscape is ever evolving. The only constant is change. I hope to grow my career at Taco Bell where I continue to be both creative and strategic, creating meaningful and engaging digital experiences for consumers to engage with the brand (but most of my meetings by then will surely be in the Metaverse).
Posted: May 20, 2022
Category: Alumni Profiles, Careers, Digest Only, Five Questions With...
Tagged as: Ad Society, Five Questions, Nicole Weltman, Taco Bell