Study: Matching Black Patients With a Black Virtual Clinician May Increase Willingness to Get Screened for Colon Cancer
Matching Black patients with a Black virtual clinician may increase patient willingness to get screened for colon cancer, according to a new study.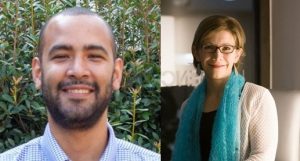 The findings by Eric Cooks, postdoctoral fellow for the STEM Translational Communication Center (STCC) at the University of Florida College of Journalism and Communications and Janice Krieger, STCC director, were shared in "Telehealth and Racial Disparities in Colorectal Cancer Screening: A Pilot Study of How Virtual Clinician Characteristics Influence Screening Intentions" published in the Journal of Clinical and Translational Science.
Cooks and Krieger were part of a 13-member research team. Black patients face significant disparities in both colon cancer incidence and mortality. As regular screening for colon cancer has been found to save lives and telehealth continues to emerge as an innovative means of delivering culturally appropriate messaging, the results of their study suggest that persuasive cues (i.e., source credibility, message relevance) associated with information processing can influence behavioral outcomes as part of a virtual cancer screening intervention. Given the shortage of minority healthcare clinicians, these virtual clinicians provide an accessible tool to remind and motivate patients to take fast action. They can easily be tailored to patient preferences and can help get important prevention information to patients and their families in a culturally sensitive manner.
According to the authors, "Taken together, findings from this study suggest that telehealth interventions developed to reduce racial disparities in colorectal screening that match Black patients with an interactive, Black virtual clinician can maximize perceptions of credibility and message relevance, which may then positively influence patient screening intentions.""
Posted: May 16, 2022
Category: College News, Diversity News and Profiles, STEM Center News
Tagged as: Eric Cooks, Janice Krieger, STEM Translational Communication Center