Iman Zawahry Attends White House Reception Celebrating the End of Ramadan
Iman Zawahry, University of Florida College of Journalism and Communications Media Production, Management, and Technology lecturer and award-winning filmmaker, was one of more than 200 prominent American Muslims to attend a White House reception celebrating Eid al-Fitr on May 2.
Eid al-Fitr is a Muslim religious holiday marking the end of the month-long dawn-to-sunset fasting of Ramadan. This was the first time the White House event was held on Eid al-Ftir.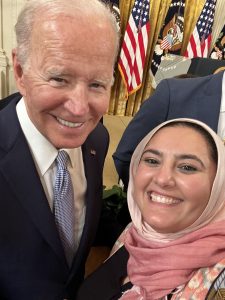 Zawahry, who is also Films Program Director for the Islamic Scholarship Fund, spoke briefly with President Biden about being the first hijabi female filmmaker in the U.S. that produces comedies and romantic comedies.
According to an Instagram post by President Joe Biden, "Yesterday, we resumed the tradition of celebrating Eid at the White House, and of honoring the inspiring Muslim Americans who are leading efforts to build greater understanding and unity across our nation."
Zawahry's debut feature-length film, "Americanish," has been winning multiple awards at film festivals across the country. The romantic comedy follows the stories of two sisters, Sam and Maryam, and their cousin Ameera as the three marriage-aged women navigate the complexities of romance, culture, careers, education and family in Jackson Heights, Queens, New York.
Posted: May 5, 2022
Category: College News
Tagged as: Iman Zawahry, President Biden, White House