Iman Zawahry Receives Sundance Institute Momentum Fellowship
Iman Zawahry, University of Florida College of Journalism and Communications Media Production, Management, and Technology lecturer and award-winning filmmaker, has received a Momentum Fellowship from the Sundance Institute. The Fellowship supports professional development for mid-career artists from historically marginalized communities as they explore and develop their creative practice.
Zawahry is one of eight fellows selected to participate in a full-year program tailored for each by Sundance Institute staffers, receiving access to unrestricted grant funding, as well as industry mentorship and meetings, a writing intensive course, and professional coaching offered by Renee Freedman & Company, with support from The Harnisch Foundation.
Zawahry is one of the first American-Muslim filmmakers in the nation. She's an Emmy award winner, Princess Grace Award recipient, and a Lincoln Center NYFF Artist Academy Fellow. Her debut film, Americanish, is currently touring the festival circuit and has won 20 awards, including best director and best film.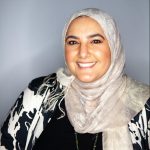 The Momentum Fellowship is a program of Outreach and Inclusion and Women at Sundance. It launched in 2018 as an evolution of the Women at Sundance Fellowship, which was expanded to offer opportunities to a broader range of artists from underrepresented communities. Those eligible for the intersectional program include artists identifying as women, non-binary and/or transgender, Black, Indigenous, and/or people of color, and artists with disabilities.
Notable past recipients include Christina Choe, Cristina Costantini, Yance Ford, Natalie Erika James, Ekwa Msangi, Edson Oda, Linda Yvette Chávez, Angel Kristi Williams, Malika Zouhali-Worrall and Eva Vives.
Posted: March 9, 2022
Category: College News
Tagged as: Americanish, Iman Zawahry, Sundance Institute