Won-Ki Moon to Join CJC as an Assistant Professor in Advertising
The University of Florida College of Journalism and Communications today announced that Won-Ki Moon will be joining the faculty in fall 2022 as an assistant professor in the Department of Advertising.
Moon currently is a graduate researcher at the Center for Media Engagement in the Moody College of Communication at the University of Texas at Austin. His research interests stem from his background in consumer psychology and behavior, particularly the role of social psychology in forming information behavior across emerging media.
His current research centers around the idea of "AI for social good," specifically the use of artificial intelligence in maximizing the benefits of emerging technology, including social media. His recent study, "Can artificial intelligence reduce partisan motivated reasoning? Evaluating the credibility of fact-checking messages from human, AI, and user consensus," was recognized
as one of the top four Human-Computer and Technology Division papers at last year's National Communications Association conference.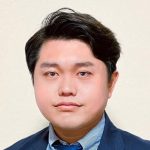 Moon has led research projects funded by a variety of organizations, including the Arthur W. Page Center, National Research Foundation of Korea, Korea Press Foundation, AEJMC Public Relations Division, the Office of Sustainability in UT Austin, and Incheon National University. His research has been published in various journals across disciplines, including Journalism & Mass Communication Quarterly, Energy Policy, Science Communication, Health Communication, Public Relations Review, Journal of Risk Research, and more.
He received a B.A. and M.A. in mass communication from Incheon National University in South Korea and an M.A. in journalism from the University of South Carolina.
Posted: March 2, 2022
Category: College News
Tagged as: Won-Ki Moon