Iman's Zawahry's "Americanish" Wins at Amelia Island and Sedona International Film Festivals
Iman Zawahry, University of Florida College of Journalism and Communications Media Production, Management, and Technology lecturer and award-winning filmmaker, has received the Grand Prize and Best Narrative Feature Award at the 2022 Amelia Island Film Festival, as well as the Director's Choice Best Feature Comedy Award from the 2022 Sedona International Film Festival for her film "Americanish."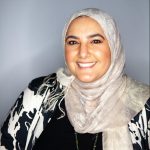 "Americanish" is the first American Muslim romantic comedy made by American Muslim women and Zawahry's first feature-length film.
The 15th Annual Amelia Island Film Festival was held from Feb. 24-28 and the 29th Annual Sedona International Film Festival was held virtually from Feb. 19-27.
"Americanish" has been honored by national and international film festivals including the 30th Heartland International Film Festival Narrative Feature Grand Prize and Audience Awards from the 2021 New York Asian Film Festival, the CAAMFest 2021 in San Francisco and the Asian CineVision Asian American International Film Festival.
Posted: March 2, 2022
Category: College News
Tagged as: Americanish, Iman Zawahry