Moni Basu Shares Stories of Human Resiliency After the 2010 Haitian Earthquake
Moni Basu, University of Florida College of Journalism and Communications Michael and Linda Connelly Lecturer for Narrative Nonfiction, is featured in "Reporting Trauma: Moni Basu on Following an Earthquake Survivor" published on NiemanStoryboard on Feb. 10.
Basu, a former CNN reporter, traveled to Haiti to report on the devastation from the January 2010 earthquake. Through three stories, she focused on the impact the earthquake had on two women, Falone Maxi and Mica Joseph, including their rescue, how they coped and their emotional reunion one year later.
Rather than covering just the rescue and the trauma, Basu focused on human resiliency.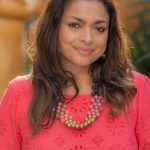 "There were people being rescued from the rubble of buildings that had collapsed in the earthquake. It was sexy to show footage of someone being pulled out of the rubble in such dramatic fashion and then asking them a few questions like 'What was it like to be trapped under a building?' Well, what do you think it was like? It was awful!" writes Basu.
For her first story, Basu interviewed Maxi. "She told me about the harrowing experience that she had. She also told me that the only reason she survived was because her friend Mica had been trapped with her, and the two women held each other as much as they could."
When she returned for the second story, Basu found that Maxi had still not left her home, so she took her for a trip around the city to show her that she had endured and was a survivor.
The final story featured the reunion of Maxi and Joseph. The tearful meeting allowed them to finally talk about all the things they had been processing over the months.
"For me, it was a metaphorical story. Maxi represented all of Haiti and its healing from the earthquake. When I first met her, I thought, 'Oh my gosh. I don't know if this girl will ever recover from the scars of what happened.' But she's done remarkably. I'd like to believe that the process of these stories helped in some way."
Posted: February 23, 2022
Category: College News
Tagged as: Moni Basu, NeimanStoryboard