Jasmine McNealy Authors Article on How Language Can Influence Technology Perceptions
Jasmine McNealy, University of Florida College of Journalism and Communications associate director of the Marion B. Brechner First Amendment Project and associate professor, Media Production, Management, and Technology, is the author of "Framing and Language of Ethics: Technology, Persuasion, and Cultural Context" published in the Journal of Social Computing, Vol. 2, Issue 3, Sept. 2021.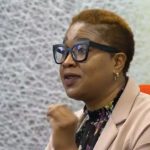 The article examines complications of the imagery used for ethics in technology and how language can influence perceptions. McNealy investigates what is meant by ethics and the codes that corporate, governmental and other organizations use to depict how they understand their relationship to the technology they create and deploy.
McNealy also explores "three examples of frames of ethics and descriptions of technology, which though appearing progressive, once understood holistically, fail to adequately describe technology and its possible impact."
Posted: January 27, 2022
Category: College News, Marion B. Brechner First Amendment Project News
Tagged as: Jasmine McNealy, Marion B. Brechner First Amendment Project