Cynthia Barnett's "The Sound of the Sea" Selected as One of the Best Books of 2021 by "Science Friday"
University of Florida College of Journalism and Communications Environmental Journalist-in-Residence Cynthia Barnett's book, The Sound of the Sea: Seashells and the Fate of the Oceans,
has been selected as one of the best science books of 2021 by "Science Friday," the award-winning weekly public radio program broadcast nationally from WNYC-FM.
"Science Friday" Host Ira Flatow worked with Science Editor Valerie Thompson and Stephanie Sendaula, associate editor of Library Journal, to create a list of the year's best science titles.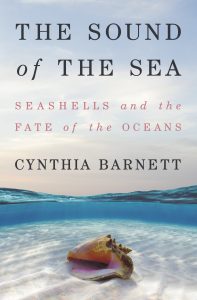 According to Sendaula, "Barnett brings her curiosity for seashells to this natural history about what seashells can tell us about the mollusks who inhabit them, and what shells have meant over the years, as they have been used for currency, fashion, and more. This book is for readers who want something fun, yet thought-provoking."
Barnett's book was also named one of Bloomburg's best nonfiction books of the year, selected for the Best Science & Technology of 2021 list by Library Journal, added to Kirkus Reviews Best Nonfiction Books of the Year 2021 list and was named one of the best books of July 2021 by Apple Books.
Posted: January 3, 2022
Category: Alumni News, College News, Science Communication News
Tagged as: Cynthia Barnett, The Sound of the Sea: Seashels and the Fate of the Oceans