Five Questions With…Aaron Zeiler
"Five Questions With…" is a series of profiles of recent CJC graduates and the career paths they chose.
Aaron Zeiler, B.S. Public Relations 2017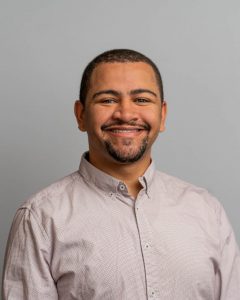 Tell us about your current job?
I am currently the Communications Manager for Civil Rights Corps — a national non-profit using innovative litigation, policy and storytelling to challenge the unjust criminal-legal system and end mass incarceration. Our communications team is small but mighty, taking on new opportunities to tell stories of lived experience to reimagine what justice and safety really means. My normal day includes reaching out to major media outlets to provide context and support on these issues, updating our special projects websites, training attorneys for media interviews, and making sure our work keeps moving.
Why did you choose to come to the UF College of Journalism and Communications?
UF was my dream school — as a fourth-generation Gator, there was no question that UF was right for me. When I did my school tours, I was amazed at the number of immersive opportunities that the CJC had to offer — and that was before The Agency and the Center for Public Interest Communications even existed! The faculty, opportunities, and community made it clear that CJC was the college for me.
How did your time at CJC help prepare you for this current position?
I owe so much of my confidence and skills to my professors. [Center for Public Interest Communications Director] Ann Christiano's public interest communications class, [Public Relations Associate Professor] Rita Men's campaigns class, [former Public Relations Lecturer] Deanna Pelfrey's public relations management course, and so many more taught me the importance of strategy, the value of asking "why?", and the necessity of knowing your audience for both external and internal communication. In and outside of the classroom, I have learned lasting lessons that have allowed me to take on challenges — like stepping into a leadership role — with courage.
Was there a defining moment, personally or professionally, at CJC that set you on your current path?
I remember one day after public interest communications class, Ann Christiano stopped me after class to see if I had applied to the Frank Karel Fellowship — a Washington, D.C.-based program for minority and/or first-generation college students to introduce them to public interest communications and help them build connections in a field that disadvantages those communities. I told Ann that I had not. I was a sophomore in a class filled with juniors and seniors — there was no way they would pick me. The conversation that followed was life changing. The confidence Ann had in me and the encouragement and mentorship she gave me drove me to apply to this fellowship.
I spent the summer in DC at the Campaign for Tobacco-Free Kids, learning from leaders in the field, and building the connections that would eventually bring me back to D.C. to work at Spitfire Strategies and then Civil Rights Corps. It instilled a passion for social change and strategic communications that has kept me fueled. I am so thankful for that conversation with Ann.
What advice do you have for students interested in pursuing a career in public interest communications?
The biggest thing I have learned is that public interest communications is more than just strategic communication. It is radical reimagining. This expansive view allows you to be curious and creative in your methodology. The best way to reach this space is to ask questions. They can seem like small questions like "What does this acronym mean?" that can help you clarify jargon. They can be big questions like "What does this community say that they need?" to help you improve your strategy. They can even be systemic questions like "Why do we do things this way?" to help your team communicate more clearly and efficiently. The key here is to have the confidence to ask.
Posted: December 10, 2021
Category: Alumni Profiles, Careers, Five Questions With...
Tagged as: Aaron Zeiler, Five Questions