Five Questions With…Alexa Padron
"Five Questions With…" is a series of profiles of recent CJC graduates and the career paths they chose.
Alexa Padron, B.S. Advertising 2020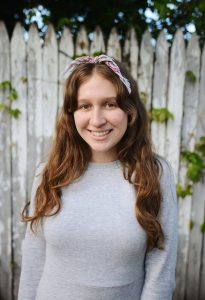 1. Tell us about your current job.
I'm an associate copywriter at TBWA\Chiat\Day New York. As a copywriter, I write scripts for commercials, captions for social posts, and dream up all kinds of ideas. Within a year of working in the advertising industry, I've worked across multiple verticals including tech, soft drinks, automotive, travel, and more. My favorite (and biggest) project has been the Mountain Dew Major Melon Bottle Count for Super Bowl LV. My creative partner and I worked on the promotion leading up to the big game and the auto-generated tweets and gifs with John Cena. Every day at my job is different but each day guarantees using my creativity.
2. Why did you choose to come to the UF College of Journalism and Communications?
I was lucky to find my career path early on in high school. At first, I thought I wanted to be a journalist, so UF was an easy choice as one of the top journalism schools in the nation. Before my senior year of high school, I attended the Summer Media Institute where I took a tour of The Agency during its inaugural year. I knew agency life was for me at that moment. I toured other colleges to explore my options, but no other journalism or communications program I was interested in had such robust immersive experiences. An affordable education at a top public university? Sign me up.
3. How did your time at CJC help prepare you for this current position?
The CJC gives you a well rounded education across communications and advertising (in my case as an advertising grad). As a creative, the copy and visualization class changed the course of my path. After that class, I was hyper focused on building a portfolio of work that would get me hired as a copywriter at a creative ad agency (just like the one I'm at today).
4. What advice do you have for students interested in pursuing a career as a copywriter?
Your coursework at the CJC is just the beginning. You need to immerse yourself in all the opportunities available to you. I was heavily involved in Ad Society, The Agency, and advnt at the CJC. After you get involved within the College, you need to reach out beyond it. I got involved in national advertising awards, conventions, and internship programs. Before we were all remote, I would get coffee with copywriters and creative directors in cities across the country. Now, it's easier than ever to reach out to working professionals in the industry to learn more about your career path and build your network.
5. Where do you hope to be in your career in five years?
In five years, I hope to be a senior copywriter at an ad agency. It's not very different from my title now because I truly love my job. Eventually, I want to be a creative director but I'm in no rush — just enjoying the ride.
Posted: December 9, 2021
Category: Alumni Profiles, Careers, Five Questions With...
Tagged as: Alexa Padron, Five Questions