Sylvia Chan-Olmsted Comments on the Spread of Misleading COVID-19 Information in Podcasts and Radio Shows
Sylvia Chan-Olmsted, University of Florida College of Journalism and Communications Media Production, Management, and Technology professor and Media Consumer Research director, is quoted in "On Podcasts and Radio, Misleading COVID-19 Talk Goes Unchecked" published in The New York Times on Nov. 12.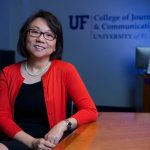 The article focuses on how false statements about COVID-19 vaccines have been featured on podcasts and radio programs, even as some hosts die from virus complications.
According to Chan-Olmsted, podcasts may be more effective in spreading false information than social media.
"People who go to podcasts have much more active engagement," she said. "It's not like, 'Oh, I went on Facebook and I scrolled through and saw this misinformation.' It's more likely that you're engaged, you're interested in this host, you actively seek this person out and listen to what he or she has to say."
Posted: November 15, 2021
Category: College News
Tagged as: Podcasts, Sylvia Chan-Olmsted, The New York Times