Moni Basu Authors Article on the Rise and Fall of Florida's Dixie Highway
Moni Basu, University of Florida College of Journalism and Communications Michael and Linda Connelly Lecturer for Narrative Nonfiction, is the author of "Drivin' the Dixie Highway: How Florida's Dream Road Turned to Dust" published in Flamingo magazine on Nov. 1.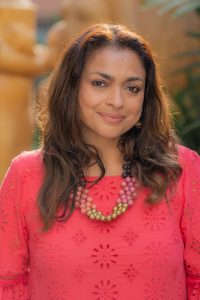 Basu traveled the Dixie Highway, one of the oldest roads in America, to discover the history and controversy surrounding the route that traverses the state.
"I sense, or rather, hope, it won't be too long before 'Dixie' is gone from Florida. In some places, this expunction has already begun," said Basu. "But before 'Dixie' disappears from the names of public places and, with them, our psyches, it's imperative that we fully comprehend the history of the iconic highway."
Basu's journey takes her to Espanola, about an hour south of Jacksonville, to meet Randy Jaye, a self-made historian in Flagler Beach who wrote a book that examines Flagler County as a microcosm of the segregated South.
"I have arrived at a place that offers explanation. It's a place that is hard to find, hard to traverse, hard to know. It's been called a ghost town, but that is not the truth. Ask the 300 or so people who call this place home," she said. "I take in what's left of the Dixie Highway. It's hard to imagine that this single-lane brick road served as a model for the maze of sophisticated highways and roads that would come to hold America together one day. This was the road that helped make Florida what it is today, even though it died young and buried with it many a dream."
Basu says that she respects Jaye for trying to tell the story of the place that surrounded the Dixie Highway.
"Aside from a few oral histories and published interviews with residents of Espanola and nearby Bunnell, very little writing exists that tells of Black life here," said Basu. "There is hardly any mention of how America's new infrastructure affected poor Black families, who often found themselves disenfranchised, discriminated against and in deep debt in a post-Reconstruction South. Jaye's research was a journey of discovery that turned into efforts to preserve Black heritage."
She adds, "I sensed that the people who still call Espanola home prefer the road just the way it is: a relic, a part of the past that they believe is destined to stay that way. Nearby, the vast planned communities of Palm Coast threaten to gobble their way toward Espanola. Who knows if developers and politicians will one day find the Old Dixie Highway as abhorrent as its name? And then, perhaps, it will vanish altogether."
Posted: November 9, 2021
Category: College News, Diversity News
Tagged as: Flamingo Magazine, Moni Basu