Roxane Coche's Virtual Exchange Collaboration Featured in International Publication
Roxane Coche, University of Florida College of Journalism and Communications Sports Journalism and Communication associate director and Media Production, Management, and Technology assistant professor, is featured in "Advancing Journalism Education Through Virtual Cross-Border Collaboration" published in European Journalism Observatory on Oct. 21.
The story references Coche's recent Journalism & Mass Communication Educator article on virtual exchange (VE), an emergent trend in course internationalization, which consists of using technology to interact and work with another class located in another city/country to develop digital skills and intercultural competence.
Coche lead a virtual collaboration with UF sports communication students and students in a journalism course in the UK to explore cultural differences between American and British soccer coverage and minority representation, equality, and accessibility in the sports industry.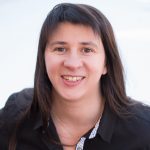 According to Coche, "After only two weeks, the project logistics were compromised – first by a teachers' strike in England and then by the Covid-19 pandemic. But the students continued to collaborate on multimedia projects, analyzing how British and American media covered a soccer-related topic of their choice. Of course, with the pandemic and lockdowns in full swing, they were speaking to each other from their homes – having added WhatsApp and Facebook Messenger to their modes of communication."
"The VE project opened their eyes to the idea that England is an entirely different culture, despite the shared history between the two nations," she said.
Coche asserts that the project helped students understand that some "topics that transcend continents and are shared around the world" bring people together regardless of their differences. She notes that the students did not just explore the cultural differences between the US and the UK, they also learned to appreciate them.
She adds, "the project helped students better understand intercultural communication and multicultural competence, making them 'better equipped for a global work environment.'"
Posted: October 25, 2021
Category: College News
Tagged as: Roxane Coche, Sports Communication, Virtual Exchange