Iman Zawahry Named Best Feature Director at the La Femme International Film Festival 2021
Iman Zawahry, University of Florida College of Journalism and Communications Media Production, Management, and Technology lecturer and award-winning filmmaker, was named Best Feature Director for her film "Americanish" at the LA Femme International Film Festival 2021.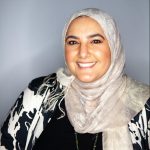 This premiere film festival celebrates, supports and advances content creation by women producers, writers and directors from around the world. The hosted film festival has advanced the careers of over 1,000 artists and continues to offer educational seminars, programming and networking events.
This is the fifth honor for "Americanish." The film also received the 30th Heartland International Film Festival Narrative Feature Grand Prize and Audience Awards from the 2021 New York Asian Film Festival, the CAAMFest 2021 in San Francisco and the Asian CineVision Asian American International Film Festival.
"Americanish" is the first American Muslim romantic comedy made by American Muslim women and Zawahry's first feature-length film. Zawahry served as the American Muslim director to Aizzah Fatima's Pakistani-American Muslim lead acting, and the pair co-wrote and co-produced the romantic comedy.
Posted: October 19, 2021
Category: College News, Diversity News and Profiles
Tagged as: Americanish, Iman Zawahry