CJC Alumni Selected for the 2021 Florida Trend Magazine "Florida 500" List
Five University of Florida College of Journalism and Communications alumni were selected for Florida Trend magazine's 2021 edition of "Florida 500." The honorees include Yolanda Cash Jackson, B.S. Journalism 1980, David Lawrence, Jr., B.S. Journalism 1963 and Hall of Fame 1982, Ava Parker, B.S. Journalism 1984, Ron Sachs, B.S. Journalism 1972 and Hall of Fame 1998, and Julie Talenfeld, B.S. Journalism 1984 and Hall of Fame 2011.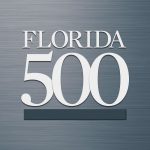 This the fourth annual edition of "Florida 500," a special section that highlights the 500 most influential executives in different economic sectors throughout the state. The list, compiled by the editors of the magazine, offers a personal look at the state's most influential business leaders.
Honorees were chosen for one of 16 different categories including Agriculture, Arts/Entertainment, Education, Energy, Finance & Insurance, Hospitality/Tourism, Information/Tech/Media, Law, Life Sciences, Living Legends, Manufacturing, Philanthropy/Non-Profits, Professional Services, Real Estate, Retail/Wholesale, and Transportation.
Jackson was selected for Law, Lawrence and Sachs were recognized as Living Legends, Parker for Education, and Talenfeld for Professional Services.
In addition, UF alumni Ken and Linda McGurn were selected for the Real Estate list. Earlier this year, the McGurn's made a $2 million commitment to establish the McGurn Fellowship Program for Media Integrity and the Fight Against Disinformation. The gift will fund fellowships at CJC, the Levin College of Law and the Consortium on Trust in Media and Technology.
In 2019, Diane McFarlin, CJC Emeritus Dean and Scholar, was chosen for the "Florida 500" Information/Tech/Media category.
Posted: October 12, 2021
Category: Alumni News, College News, Diversity News and Profiles
Tagged as: Ava Parker, David Lawrence, Diane McFarlin, Florida Trend Florida 500, Jr., Julie Talenfeld, Ken and Linda McGurn, Ron Sachs, Yolanda Cash Jackson