Clay Calvert Comments on First Amendment Protections for Satire and Parody
Clay Calvert, director of the Marion B. Brechner First Amendment Project and Brechner Eminent Scholar in Mass Communication at the University of Florida College of Journalism and Communications, is quoted in "An OnlyFans Baseball Parody Has an Olney Team Crying Foul – and Hiring Counsel" published in The Washington Post on Sept. 13.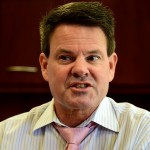 OnlyFans.com is a social media site that allows providers of sexually explicit content to make money online. OlneyFans.com is the satirical website for Montgomery County, Maryland's new baseball team created by Takoma Torch, a parody website based in Takoma Park.  Web surfers are confusing the two sites and Takoma Torch has now been threatened with legal action from the real baseball team in Olney, part of the Cal Ripken Collegiate League. Olney Baseball and its lawyers did not find the situation amusing.
According to Calvert, "The Supreme Court made it clear in Hustler Magazine v. Falwell in 1988 that satire and parody are protected by the First Amendment. I don't think anybody is going to take this as a serious assertion of fact. It's humor."
Posted: September 14, 2021
Category: College News, Marion B. Brechner First Amendment Project News
Tagged as: Clay Calvert, Marion B. Brechner First Amendement Project