Moni Basu Comments on Safety Precautions for Reporters
Moni Basu, University of Florida College of Journalism and Communications (UFCJC) Michael and Linda Connelly Lecturer for Narrative Nonfiction, is featured in "Reporting Skill Alone 'Is Not Enough:' Journalists Stress the Importance of Safety on the Job" published on thespjnews.org on Sept. 2.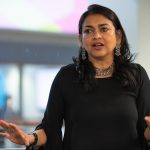 In the story, Basu, who covered the Iraq war from its inception, comments on the safety challenges she has faced on assignment. Safety training in newsrooms is vital as well as sharing advice on how to de-escalate and predict unexpected situations.
"It's not enough to teach them reporting skills," Basu said. "There's no point in you going there if you can't get the story back to your newsroom, or if you yourself, God forbid, become the story because you would put yourself in danger and have become some sort of victim in the problem."
Basu explained that most newsrooms would think that those sessions are only for journalists who are preparing to go out in war zones. However, that is not the case.
"Of course, we saw what happened last January at the Capitol," Basu said. "I mean, who would have thought that our nation's capital would come under siege like that, and these are reporters who are White House reporters, Washington reporters who normally cover politics."
Basu added that when she did her reporting in Iraq, she filled out an assessment form of potential dangers to become prepared for the assignment.
"Because once you're in the middle of the mayhem, it's too late to come up with a plan," Basu said.
Posted: September 9, 2021
Category: College News
Tagged as: Moni Masu, SPJ