Clay Calvert Comments on Former President Trump's Lawsuits Against Big Tech
Clay Calvert, director of the Marion B. Brechner First Amendment Project and Brechner Eminent Scholar in Mass Communication at the University of Florida College of Journalism and Communications, is quoted in "Experts Say Trump Lawsuits Against Big Tech are 'Dead on Arrival'" published in couthousenews.com on Aug. 27.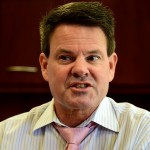 The article focuses on attempts by former President Trump's attorneys to drum up inventive legal arguments. Trump's claim that his First Amendment rights were violated when he was booted from social media platforms is unlikely to succeed.
According to Calvert, the complaints were "dead on arrival" when they were filed.
"The reason for that is pretty basic. The First Amendment protects us from government censorship, not censorship by private entities or organizations, including Twitter, YouTube, and Facebook," Calvert said. "The reality is that mandating that social media platforms host individuals even when those individuals or candidates for office do not follow their terms of service – that's actually intruding on the First Amendment editorial judgment and control of those platforms to make decisions about the nature of the content that they host or don't host."
Posted: September 1, 2021
Category: College News, Marion B. Brechner First Amendment Project News
Tagged as: Big Tech, Clay Calvert, Marion B. Brechner First Amendment Project