Traumatic Experience Fuels Student's Desire to Write
By Lenore Devore, B.S. Journalism 1984
A traumatic life experience at age 16 does not define Daniela Ghelman, but it has focused her love of writing on a career in journalism so she can help and teach others.
The 21-year-old native of Caracas, Venezuela, who started at the University of Florida College of Journalism and Communications in spring 2021 after transferring from Florida International University (FIU), is majoring in journalism. She expects to graduate in spring or summer 2022.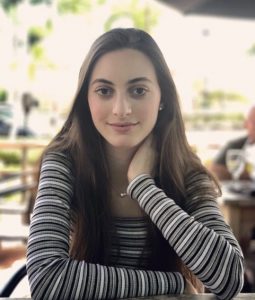 When she was 16, Ghelman and her father were kidnapped by several men and held for ransom for several hours, she said. "Around that time, you used to hear that there were a lot of kidnappings. You are just there at a bad time. They told me they were sorry about what was happening, that they just needed money to feed their families."
The kidnappers told her father to call her mother and tell her what was going on. Her mother reached out to a security team that works within the Jewish community to help people in similar situations. "They arranged everything. They set up a meeting point where my mom would drop some money and they would let us go."
The feelings of helplessness, of "why me," will never go away, she said, but they have eased.
She started writing to help with the trauma.
"I don't remember what I used to write. Writing has always been a coping mechanism. When I'm going through anything in my life — something positive, a break up, a fight with someone, something I saw on the news — I write for myself."
Often, after she is done writing about her feelings, she moves the Word document to Trash, she said. The process has helped her move on.
"All that happened has a purpose in my life," she said. "I'm sure I will turn it into something positive, even though it was a very hard situation for me and my family," which includes her parents and two sisters.
Ghelman said she will use her experience to help others who are suffering from similar traumatic situations — and to teach the world about what's happening in Venezuela. "My dream is to go back to Venezuela, but in reality it won't be possible, at least for now. The situation is really bad and it hasn't improved."
In her senior year in high school in 2017, she realized she would need to leave Venezuela to get the skills and knowledge needed to help her country. "Students my age were dying due to the repression by the military. I wanted to do something, but I couldn't risk my life. I want a way to tell people what it's like to live in Venezuela and inspire them to help my country."
After high school, she took a year off, then decided to enroll in FIU, where her older sister was a student. "Despite everything I went through and the crisis there, I still love Venezuela. Moving to the U.S. was one of the biggest challenges I had to face. I didn't speak the language perfectly and everything was different than what I was used to. FIU and UF taught me things I would not have learned any other place."
She decided to transfer from FIU after earning her associate's degree to "have that college experience I was missing in Miami." She found UF, where she was attracted to its highly ranked journalism program. The pandemic delayed her transfer until January 2021, but she found what she was looking for — a chance to interact with other students and professors.
"It's my first time in a physical classroom since the pandemic started, and seeing students like me, working really hard, doing homework, writing news stories that we had to do on a weekly basis," Ghelman said. "It has motivated me to be a better version of myself, to work harder to achieve the things I want to achieve. This semester is when I really understood what journalism is like, what it's like to be a reporter."
She's grateful for the education she's receiving, especially in Cindy Spence's reporting class, she said. "It's a very demanding class. It really taught me what it was like to be a reporter, how to write a story, how to conduct an interview. This reporting class was like a job for me; I really learned there."
This summer, she's writing stories and copy editing for Flamingo Magazine's website and newsletter. "It's different than writing for a newspaper, but I've learned more creative writing." This fall, she will do an internship with the magazine Haute Living and write for The Independent Florida Alligator.
Posted: August 19, 2021
Category: College News, Diversity News and Profiles, Profiles, Student News, Student Profiles
Tagged as: Cindy Spence, Daniela Ghelman, Venezuela