Clay Calvert Comments on Dominion Voting Systems Lawsuit Against OAN
Clay Calvert, director of the Marion B. Brechner First Amendment Project and Brechner Eminent Scholar in Mass Communication at the University of Florida College of Journalism and Communications, is quoted in "Bankruptcy for OAN? Dominion Libel Suit Imperils San Diego Cable Outlet" published in the Times of San Diego on Aug. 15.
The article focuses on Dominion Voting Systems' $1.6 billion lawsuit against OAN for allegedly broadcasting false information about the company and that they engaged in fraud to tilt the election to Biden.
According to Calvert, "Dominion has 'overwhelming evidence' that some of OAN's statements were false. It's hard to show that they didn't act with reckless disregard for the truth."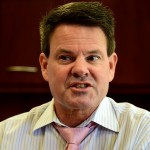 Calvert doubts that most media defense attorneys would come to OAN's aid. "It doesn't fit into your normal defense of investigative journalism in the name of helping a democratic society out to the extent that most of the allegations have been debunked," he said. "That's why I think it's going to be problematic."
"It's not that they're playing a role of a neutral detached investigative journalist providing truthful, credible information to the public," he said. "They are taking on a much more partisan stance. And that's typically not the role that most journalists would play."
"The discovery process would be fascinating because then you would be able to take the depositions of some of these people — and find out what they really believed," he said.
"The benefit here is … holding the news media accountable for their reporting. … That in turn might restore trust or at least force media outlets to perform more rigorous investigations into the credibility of the sources who are making the allegations," Calvert said. "While the micro level purpose of a libel suit is to recover from reputational harm, the macro level benefit here could be policing the realm of investigative journalism and political reporting and maybe restore credibility to the press."
Posted: August 17, 2021
Category: College News, Marion B. Brechner First Amendment Project News
Tagged as: Clay Calvert, Marion B. Brechner First Amendment Project, Voting Systems