Clay Calvert Comments on COVID Misinformation in Public Meeting Videos
Clay Calvert, director of the Marion B. Brechner First Amendment Project and Brechner Eminent Scholar in Mass Communication at the University of Florida College of Journalism and Communications, is quoted in "YouTube Yanked Public Meeting Videos Over COVID Misinformation. Now It's Backtracking" published in The Washington Post on Aug. 7.
The article focuses on YouTube's decision to share recordings of open public forums, even when comments at those forums may violate their policies.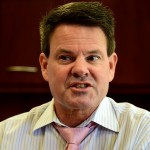 According to Calvert, "YouTube was wise to reconsider how this policy would apply to public forums…It walks back a rather paternalistic policy that allowed it to play the role of arbiter of the truth. Other citizens — not those who are speaking up — also have a right to know what their neighbors are saying at such venues and to decide for themselves the merit of their views."
Posted: August 9, 2021
Category: College News, Covid-19 Updates, Marion B. Brechner First Amendment Project News
Tagged as: Clay Calvert, Covid-19, Marion B. Brechner Center First Amendment Project