Mindy McAdams Shares Insights for Journalists Pursuing Teaching Careers
Mindy McAdams, University of Florida College of Journalism and Communications Journalism professor and Knight Chair in Journalism Technologies and the Democratic Process, is the author of "For Journalists Considering a Move to Teaching" published on medium.com on July 12.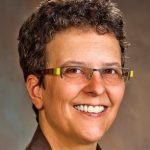 In the article, McAdams focuses on what journalists should consider before pursuing a career in academia including salary, education requirements, research areas and the workload.
"The dream is that you'll have the same salary or higher while working only nine months a year. University salaries are lower than you probably imagine, so you might need to sprinkle some reality on that dream – especially if you're currently working in a big city and have 20 years' experience," said McAdams.
She adds, "In short, teaching is not a 40-hour-a-week job any more than reporting is. The upside is that in most departments, you'll have a lot of freedom around when you do your work so you can make your own schedule."
Posted: July 14, 2021
Category: College News
Tagged as: Mindy McAdams