Cynthia Barnett's "The Sound of the Sea" Selected as One of Apple Books Best Books of July
Cynthia Barnett, University of Florida College of Journalism and Communications Environmental Journalist-in-Residence, whose book The Sound of the Sea: Seashells and the Fate of the Oceans will be available on July 6, has been selected one of the best books of July by Apple Books.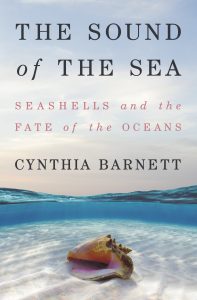 According to Apple Books, "The history of seashells makes for a fascinating read in environmental journalist Cynthia Barnett's hands. She takes us from Florida's seashell-loaded Sanibel Island to the Maldives and then on to Ghana, exploring how ocean creatures such as the mollusk have evolved over the past 500 million years—and how the shells they've left behind reflect that epic history."
On July 1, the Tampa Bay Times featured Barnett in "Cynthia Barnett Reveals the Secret Lives of Seashells in 'The Sound of the Sea'," which has a detailed review of the book including the extensive research she conducted, the featured shells and the impact that shells have made in both scientific and human terms.
Barnett also was featured live June 25 on WNYC's All of It, and on Smarty Pants, the podcast of The American Scholar.
Barnett's book tour begins on July 6 with a virtual program via Gainesville's Third House books. She is scheduled for in-person events at Story and Song in Amelia Island July 8th; Tampa Bay Watch July 11th; and on Nantucket Island July 15th. To sign up for these or virtual events throughout the summer, visit http://www.cynthiabarnett.net/appear.html.
Barnett will also share information on her new book on an episode of "Tell Me About It" to be broadcast on public radio stations WUFT 89.1/90.1 on July 4 at 7 a.m. and available online on wuft.org. And she will be live on KQED-San Francisco's call-in show, FORUM, from noon to 1 p.m. ET on Wednesday July 7th.
Posted: July 2, 2021
Category: College News
Tagged as: Cynthia Barnett, Seashells, Sound of the Sea