INC News Manager Goes Above and Beyond to Make the College and Newsroom Even Better
By Lenore Devore, B.S. Journalism 1984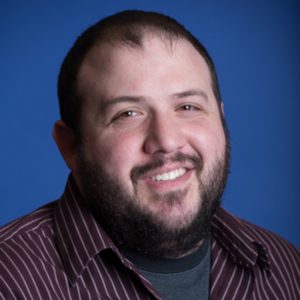 Ryan Vasquez, B.S. Telecommunication 2006, has a vision of what the College's Innovation News Center (INC) can be as it moves from just an experiential opportunity to an innovation incubator.  That is just one reason the multimedia news manager and adjunct professor was named CJC's Staff Member of the Year.
"We are constantly trying to up the bar," Vasquez said. "We want to not just rest on our laurels but chase the people we compete with. We have to be able to pivot, to provide opportunities for our students for the jobs that are coming open. We will be getting into more automation and how to incorporate artificial intelligence into our field, which will not just help our students but the community we live in."
The INC is creating an avenue to use information that's not used on other platforms — information that lives in only one place like TV, radio or the web – which will  bring better synergy.  There's also a larger intent: Vasquez wants to disseminate the content beyond the local audience to partner public radio stations across the state. "Usually we rely on them. I hope to be able to provide content to them as well," he said.
Vasquez, who has a master's in Interactive Technology from the University of Alabama and spent seven years as a local "All Things Considered" host and reporter for Alabama Public Radio, said he thinks he was named Staff Member of the Year because he always goes above and beyond to serve the College and the community. Last year, he was on the air almost daily to provide news of the pandemic after students left campus. ""The audience doesn't care that you have fewer resources when they are relying on you for information during a pandemic," he said.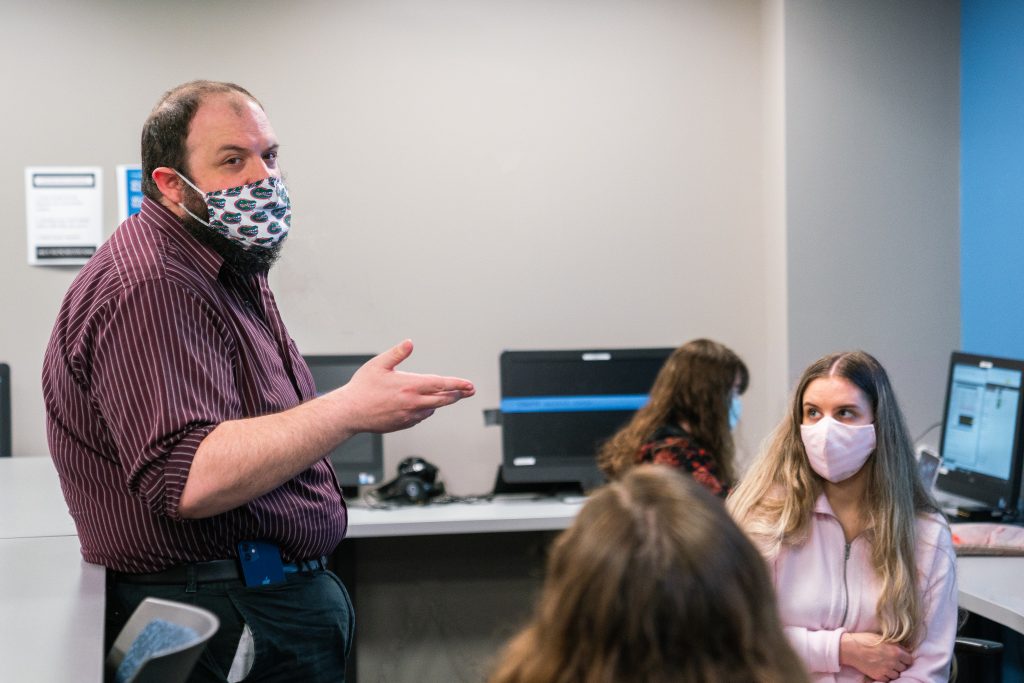 When the pandemic started, he created a new podcast, "From the Front Lines," which ran through August. "It was all done remotely with five students producing content — the important information listeners needed day to day on what was going on with the pandemic and stories on how it was impacting front-line workers, doctors, restaurants." They produced 45 episodes.
He and his students also produced "4 Days, 5 Murders" on the 30th anniversary of the Gainesville slayings, focusing on the victims of killer Danny Rolling. "I didn't want to do it like everyone else was doing it, a 'true crime' podcast. We felt like the victims didn't get their fair share. We didn't focus on Rolling. We focused on the victims and how the legacy of these murders still bear out in Gainesville. Every week they impressed me working remotely."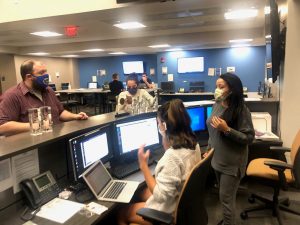 Vasquez, who also received a UF Superior Accomplishment Award, is working with a fellow INC news manager and doctoral student who received a grant to explore and archive black student experiences on campus. He said he wants to record all the interviews that are part of "Black Students Sharing Stories for an Equitable UF," edit them and then release them in some format, whether it's a podcast, on a radio segment or both, he said. "This is an academic issue as much as it is a project."
When not working with students, he likes to be involved in other ways. He is co-chair of the College's Inclusion, Diversity and Equity Committee, participated on a task force to study the budget during the pandemic, and was part of a group developing onboarding materials for new employees.
"This is normal for me. I always go above and beyond," he said. "I'm still a journalist, still serve the community. During hurricanes, elections, the pandemic — I don't think of what I can do less, I had to think of what I can do more."
Posted: May 4, 2021
Category: College News, Diversity News, Profiles
Tagged as: Ryan Vasquez