Iman Zawahry Discusses Filmmaking and Her Debut Film "Americanish"
Iman Zawahry, University of Florida College of Journalism and Communications Telecommunication Lecturer, is featured in "Hijabi Filmmaker in USA" published in Hayati magazine.
The story features Zawahry's debut film "Americanish," which explores the diversity of American communities while exploring what these communities have in common especially when it comes to love and relationships.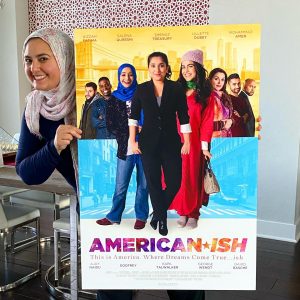 The film is the first American Muslim romantic comedy made by diverse American Muslim women about Muslim women. It features three Muslim women living in Jackson Heights, Queens tackling ambition, love and identity while balancing cultural and societal expectations.
According to Zawahry, "We wanted to show that Muslim women are not a monolith and agents of their own lives."
Zawahry is a Muslim-Brown-American-Southern-Egyptian-Woman. She realized that film was the best avenue to share stories and educate others. She has a natural affinity for storytelling and filmmaking.
"Americanish" will have a virtual world premiere for a California audience only at the Center for Asian American Media (CAAM) Festival in San Francisco on May 23. More screening dates will be announced in the future.
Zawahry was recently named the 2020-21 CJC Faculty Advisor/Mentor of the Year. You can hear more from Zawahry about growing up in the south, comedy for social change and mentoring young Muslim filmmakers in this video.
Posted: May 4, 2021
Category: College News, Diversity News and Profiles
Tagged as: Iman Zawahry