Clay Calvert Named 2020-2021 UF Teacher/Scholar of the Year
Clay Calvert, director of the Marion B. Brechner First Amendment Project and Brechner Eminent Scholar in Mass Communication at the University of Florida College of Journalism and Communications, has been named the 2020-2021 UF Teacher/Scholar of the Year. He was recognized for his excellence in teaching and distinction in scholarly activity. This is the highest faculty honor at UF and Calvert is the first CJC faculty member to receive the award.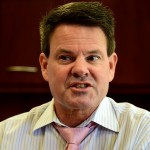 Calvert, who also is a professor in the UF Levin College of Law, was chosen based on recommendations from faculty members, academic deans, the Academic Advisory Committee and the UF Provost and President. The honor includes a $6,000 award and membership in the prestigious Academy of Distinguished Teaching Scholars with a one-time $3,000 honorarium.
As the UF Teacher/Scholar of the Year, he will also serve as the University's nominee for the SEC Distinguished Faculty Achievement Award with an initial award of $5,000. If chosen for the conference-wide Faculty Achievement Award he will receive an additional $20,000.
Calvert is a member of both the State Bar of California and the Bar of the Supreme Court of the United States.
Posted: April 29, 2021
Category: College News
Tagged as: Clay Calvert, Marion B. Brechner First Amendment Project