Cynthia Barnett's Upcoming Book Focuses on Seashells and the Fate of the Oceans
Cynthia Barnett, University of Florida College of Journalism and Communications Environmental Journalist-in-Residence, is the author of The Sound of the Sea: Seashells and the Fate of the Oceans to be published in July 2021.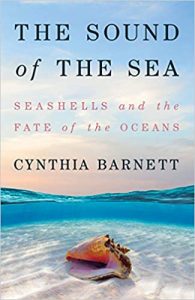 In the book, Barnett blends cultural history and science to trace the popularity of seashells and the hidden lives of mollusks that make them. She reveals what they tell us about nature, our changing oceans and ourselves.
Barnett is an award-winning environmental journalist. She is the  author of three previous books, including Rain: A Natural and Cultural History, which was longlisted for the National Book Award and a finalist for the PEN/E. O. Wilson Award for Literary Science Writing; Blue Revolution: Unmaking American's Water Crisis, which was named a Top 10 Science Book of 2011 by the Boston Globe; and Mirage: Florida and the Vanishing Water of the Eastern U.S., which received a Gold Medal/Nonfiction from The Florida Book Awards.  She also has written articles for numerous publications including the National Geographic magazine, the New York Times, Los Angeles Times, Wall Street Journal, and the Atlantic.
Barnett also was featured in "'Wilder Heart of Florida' Beat with Writers' Love for the State" published in the Tampa Bay Times on April 15. The article reviews the recently published book The Wilder Heart of Florida: More Writers Inspired by Florida Nature.
In the book, Florida's most notable authors, poets, and environmentalists take readers on a journey through the natural wonders of the state. They recount memories of how their lives have been enriched by the state's varied and brilliant landscapes. Barnett discusses how she listens to seashells on Sanibel Island to hear their story.
Posted: April 22, 2021
Category: Alumni News, College News
Tagged as: Cynthia Barnett