Clay Calvert Comments on Proposed Florida House Bill Requiring Student Surveys at Public Universities
Clay Calvert, director of the Marion B. Brechner First Amendment Project at the University of Florida College of Journalism and Communications, is quoted in "How Not to Protect Free Speech" published in Popular Information on April 8.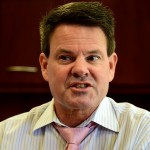 The article focuses on Florida House Bill 233. It would require surveys of students at public universities regarding "intellectual freedom and viewpoint diversity" and allow students to record professors.
According to Calvert, "I see the potential for the climate survey to be used to withhold appropriations from public universities that in the legislator's opinion do not promote marketplace of ideas."
He believes that institutions where professors have a perceived "liberal bias" will be targeted.
Posted: April 8, 2021
Category: College News, Marion B. Brechner First Amendment Project News
Tagged as: Clay Calvert, Marion B. Brechner First Amendment Project