Clay Calvert Comments on Proposed Florida Legislation Assessing the Political Climate at Florida Universities
Clay Calvert, director of the Marion B. Brechner First Amendment Project at the University of Florida College of Journalism and Communications, is quoted in "Florida Senators Debate Intellectual Freedom and Cancel Culture" published on floridapoliticalreview.com on April 2.
The article focuses on proposed Senate Bill 264 mandating public universities in Florida to perform an annual assessment of how students feel about the political climate on campus, prohibit shielding or limiting students' access to or observation of ideas and opinions that they may find uncomfortable, unwelcome, disagreeable, or offensive and permit recordings of interactions on campus.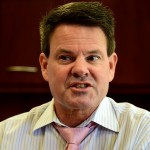 According to Calvert, "This provision could have a 'chilling effect' in classrooms. Professors may self-censor certain topics for fear of losing their job, which could hinder education on politically sensitive subjects. While recordings are legally permitted for personal use, students are not allowed to sell recordings or publish them on social media. These recordings are also bound by the privacy protections provided in the Family Educational Rights and Privacy Act."
Because public universities are already bound by the First Amendment, Calvert questions whether or not SB 264 is necessary at all.
"If the bill's purpose is to inform, then that is laudable," said Calvert. "The annual assessment could be used as a means of withholding funding from universities, though there has been no mention of this by lawmakers."
Posted: April 2, 2021
Category: College News, Marion B. Brechner First Amendment Project News
Tagged as: Clay Calvert, Marion B. Brechner First Amendment Project