Clay Calvert Comments on a Possible Trial for the Capitol Riot and a Florida Legislature Proposal to Survey Campus Political Views
Clay Calvert, director of the Marion B. Brechner First Amendment Project at the University of Florida College of Journalism and Communications, is quoted in the opinion column "Trump and the Capitol Riot: What Could a Trial Look Like" published in Asbury Park (New Jersey) Press on March 12.
Columnist Rob Miraldi describes what a possible trial would be like for former President Trump for allegedly inciting the deadly insurgence against the Capitol on Jan. 6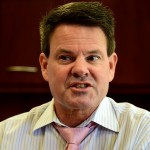 "In my mind, there's little doubt from a lay person's point of view that Donald Trump stirred the pot and is the cause of the Jan. 6 riot. But that is more impeachable than it is criminal. I am trying to assess here if his words meet the test of Brandenburg [vs. Ohio]" said Calvert.
"Trump knew his audience and their state of mind. He knew trouble could ensue. But he dances around by never explicitly using words such as assault, harm or injure. But he doesn't need the explicit terminology," he said. "The more the audience is riled, the less need to use explicit terms of violence. It is a worthy case to make. Let's hope that fear of prosecution will guard against future unlawful conduct."
Calvert also was quoted in "Florida Lawmakers Debate Political Bias on College Campuses" published in The Washington Post on March 10.
The article focuses on a proposal in the Florida Legislature requiring public universities to survey the prevailing political views on their campuses. It would also allow lawmakers to see if students are being presented with opposing ideas on campus.
"It's great to have the information about how students feel but there's a danger that it could be used as a tool or a weapon basically by state lawmakers to withhold appropriations," said Calvert. "Lawmakers might move to cut funding for different universities based on the survey's findings."
Posted: March 15, 2021
Category: College News, Marion B. Brechner First Amendment Project News
Tagged as: Clay Calvert, Marion B. Brechner First Amendment Project