Clay Calvert Featured in Legal Talk Network Podcast on DeSantis vs. Big Tech
Clay Calvert, director of the Marion B. Brechner First Amendment Project at the University of Florida College of Journalism and Communications, is the featured guest in "DeSantis vs. Big Tech," an episode of the Legal Talk Network podcast on Feb. 26.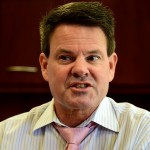 The podcast featured Florida's plans to prevent alleged censorship, political favoritism, and mishandling of personal data by social media platforms and considers if the proposed legislation violates the First Amendment speech rights of social media companies. Calvert provided information on the perceived bias of "deplatforming" of conservative political candidates, proposed legislation to impose penalties, the First Amendment and Section 230 of the Communications Decency Act.
According to Calvert, the public should have a right to hear all candidates' viewpoints. Social media platforms are the 21st Century equivalent of traditional public squares, but they also are private entities and are not owned or controlled by the government, unlike traditional public squares, parks and sidewalks.
"The Fairness Doctrine suggested providing both sides of an issue. The difference here is the medium in question. Do we want to start treating the internet as akin to broadcasting and regulate it more closely by the FCC?  Broadcasters must serve the public interest convenience and necessity. in the marketplace of ideas all types of speech and viewpoints are presented," he said.
"Do we want greater FCC regulation of the internet such that the FCC can step in so that social media would be required to cover all viewpoints?" he said. "That would be a major change."
Calvert said that Section 230 of the Communications Decency Act generally protects social media platforms from liability for content posted by third parties.
"Section 230 is under attack from the left because social media companies don't do enough to take down misinformation and conservatives feel that the same companies unfairly take down their content," said Calvert. "Section 230 is really in trouble in the U.S. Congress today and I think we are going to see action on that during Joe Biden's leadership."
Posted: March 4, 2021
Category: College News, Marion B. Brechner First Amendment Project News
Tagged as: Clay Calvert, Marion B. Brechner Center First Amendment Project