Clay Calvert Comments on Student-Athletes and the First Amendment
Clay Calvert, director of the Marion B. Brechner First Amendment Project at the University of Florida College of Journalism and Communications, is quoted in "In Tennessee, GOP Senators Seek to Ban Protests During Anthem, Raising Legal Concerns" published in The Washington Post on Feb. 24.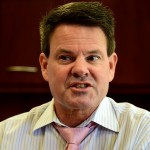 The article focuses on the East Tennessee State men's basketball team's choice to kneel during the National Anthem to protest the injustice inflicted upon Black Americans. The gesture created a backlash against the players and the university causing an attempt to impose limitations on the speech of student-athletes.
"The argument they would make is your speech reflects our speech, but [student-athletes] are not really employees, and that's the situation. They're being treated as if they're employees delivering a lecture," said Calvert. "The simple fact that a student-athlete puts on a uniform and represents a public university … that doesn't sacrifice their First Amendment rights to free speech. That argument just doesn't hold up."
Posted: March 2, 2021
Category: College News, Marion B. Brechner First Amendment Project News
Tagged as: Clay Calvert, Marion B. Brechner Center First Amendment Project