First-Generation Alumna Reaches Higher to Make Her Mark at CJC
Cindy Jara was only 10 years old when she first walked onto the campus of the University of Florida. The bright-eyed 5th-grader gaped at the tall buildings and tried out the twin bed in her sister Diana's dorm room, eagerly taking in every detail.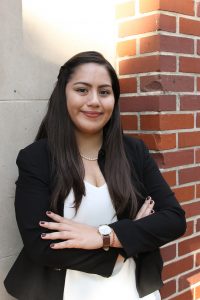 "We were helping move my sister on campus, and it was transformative for me," said Jara, B.S., Public Relations and B.A. Criminology 2020. "I decided then and there that UF was the best school in the state and there was no doubt that I would be a Gator."
Jara, a native of Colombia, grew up in Kissimmee with her mother and sister. Her father moved back to their native country when she was 10 years old. Though excited to have been accepted to her dream school, Jara was still scared that she would fail. After all, she was a first-generation college student and was unsure of how to navigate life on campus.
Then she received an invitation to apply to the Machen Florida Opportunity Scholars Program (MFOS). The program, named after former UF President Bernie Machen, began in 2006 to help retain and graduate first-generation students from low-income backgrounds. It provides mentorship, help finding tutors and assistance in acclimating to a college environment.
The scholarship program was so critical to her success at UF, she spent time reaching out to high schools and educational organizations in Central Florida to make sure that there weren't any students who ruled out UF from their college search because it was too expensive. "My little cousin didn't think he could get in to UF, but I pushed him to apply. Not only was he accepted to UF, but he is now an MFOS scholar," Jara said.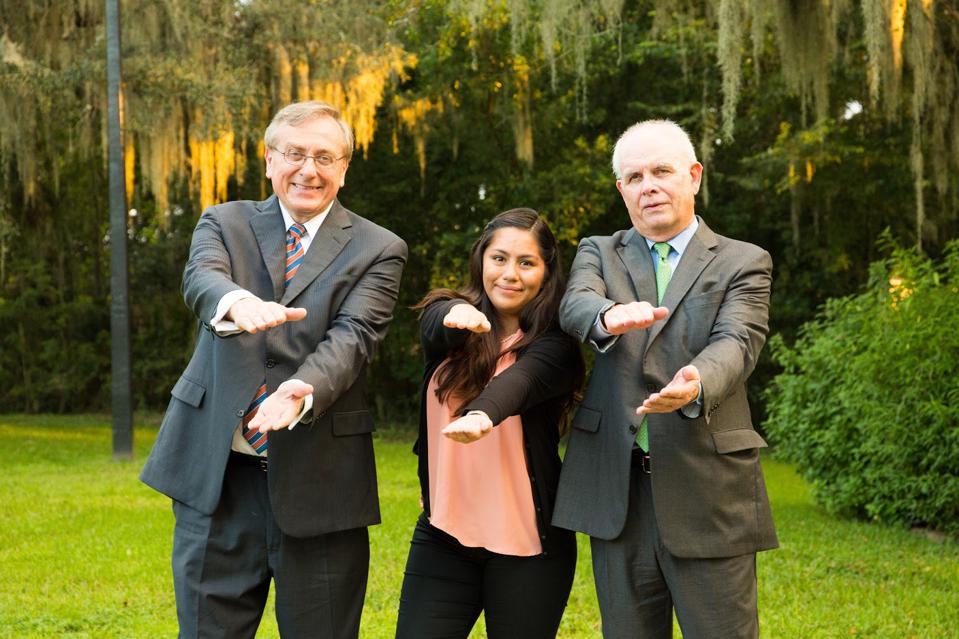 Still, when  she first arrived at UF, she didn't know what to expect. "I knew the classes would be more rigorous, but I didn't know what being professional in the classroom meant," Jara said. "I felt out of place and had the imposter syndrome. All my classmates were second- or third-generation Gators, or their parents had attended other prestigious colleges and universities. I felt lost."
She didn't stay lost for long. "It wasn't until having Professor [Natalie] Asorey's class that I had a professor look like me, speak like me, or even relate to how I grew up," Jara said. "Thanks to her, I began to get involved in the J-School through the Hispanic Public Relations Student Association. I got involved and eventually became the PR Director where I helped two up-and-coming Latinx PR students find their own place in the J-School."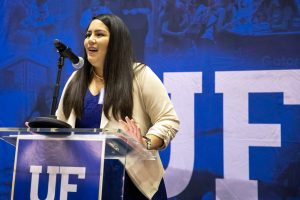 And that's not all. During Jara's four years at UF she chaired UF's Student Advisory Council for Undergraduate Affairs, was a social media intern for the Brechner Center for Freedom of Information and the social media manager for the Center for Public Interest Communications. "I was involved with the frank gathering for three years! It was actually during my first frank that I realized public interest communications existed. I originally wanted to go into public interest law but ended up falling in love with communications."
Her hard work and dedication did not go unnoticed. In her senior, she was inducted into UF's Student Hall of Fame, the highest recognition given annually to student leaders at UF. She was also awarded CJC's Charles Wellborn Award for Service in Public Relations. "Being given this award means so much to me and my family, and I dedicated it to my mom, my guardian angel, who always taught me to leave things, people, and places better for those who come after me."
After graduating, Jara began working as the digital communications associate in Michelle Obama's Reach Higher Initiative at Common App. The program helps low-income, first-generation students of color find resources to attend college, obtain internships or obtain information on the military. It is the perfect place for her to follow her newfound calling.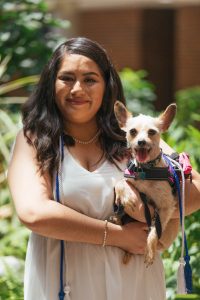 "My current role at Reach Higher is all I've ever dreamed of in a communications job," Jara said. "I work on the messaging and overall brand voice for Reach Higher and Better Make Room's social media presence." Better Make Room is a college access campaign created by Reach Higher in 2014 that focuses on reaching high school and college students.
When Jara applied to UF in 2015, one of the reasons she chose public relations was because of a dream to become a speechwriter for the president one day. "I specifically remember thinking how cool would it be to write a speech for the Obamas," Jara shared. "Three months into my first job out of college, I actually wrote something for former First Lady Michelle Obama to help encourage students to fill out the FAFSA. Never in a million years did I think that would come true! I feel extremely lucky that I get to help out first-gen, low-income, and students of color across the nation navigate their way to and through their postsecondary education."
"I am passionate about higher education and making it more accessible to people of color and low-income students. I didn't know focusing on educational equity would be my career choice," Jara said. "MFOS transformed my life and I want to do that for others who don't know that they have a place in higher education."
Posted: February 11, 2021
Category: Alumni Profiles, Profiles
Tagged as: Cindy Jara