CJC Doctoral Student Selected to Participate in Panel on Public Health and Science Communication Misinformation
Amanda Sams Bradshaw, a University of Florida College of Journalism and Communications doctoral student, will participate in a UF One Health Student Association panel on current media misinformation with a focus on public health and science communication. The virtual panel will be on Feb. 9 at 6 p.m.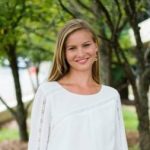 Bradshaw will be one of five UF scholars discussing interdisciplinary perspectives on misinformation through the public health lens. Discussion topics include COVID-19/anti-vaccination movement, public policy, human behavioral psychology, scientific communication and advertising and modern media.
Bradshaw's research focuses on science health communication and vaccine misinformation. Registration for the free online event is available at https://forms.gle/jbyGWnetx4cyQfH9A
Posted: February 4, 2021
Category: College News, Student News
Tagged as: Amanda Sams Bradshaw