Clay Calvert Explains the First Amendment and How it Applies to Social Media Platforms
Clay Calvert, director of the Marion B. Brechner First Amendment Project at the University of Florida College of Journalism and Communications, is featured in an ATTN segment on the First Amendment posted on Facebook, Twitter and Instagram on Jan. 21.
Calvert answers questions on what is covered by the First Amendment and what is not.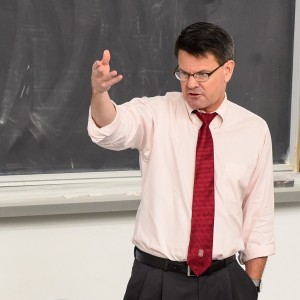 "If social media platforms remove a user's posts there is no violation of the First Amendment. The reason for that is the First Amendment only protects us against censorship by government entities and officials, not by private individuals and organizations," said Calvert.
According to Calvert, social media platforms are governed by their own terms of use.
"So, if you join Twitter you must follow its terms of service or terms of use. In return for that you get to use Twitter," he said. "As long as social media platforms are enforcing, fairly and equally, their terms of service there is no problem in a social media platform blocking or banning someone because they failed to follow those terms."
He adds, "Social media platforms choose to censor more speech than the First Amendment might actually protect. Under the First Amendment, we protect a lot of hateful and offensive expression, and a social media platform might choose by its own term of service that they will not allow that."
Calvert was asked if threats made against others are protected under the First Amendment.
"One of the categories of speech that the Supreme Court has said is not protected by the First Amendment are what we call true threats of violence. So when individuals scream, 'Hang Mike Pence' outside of the Capitol, the odds are that that speech is going to be protected because it simply is political hyperbole made in a heated context," said Calvert. "If that person is outside of Mike Pence's office and there's no security around, then you have a very different factual scenario where a reasonable person behind that door in their own office, hearing someone scream that might be put in fear and in imminent bodily harm or death."
ATTN is a production studio, a distribution network of millions of socially conscious followers, and an agency that offers content, audience insights and creative.
Posted: January 21, 2021
Category: College News, First Amendment Project
Tagged as: Clay Calvert, Marion B. Brechner First Amendment Prioject